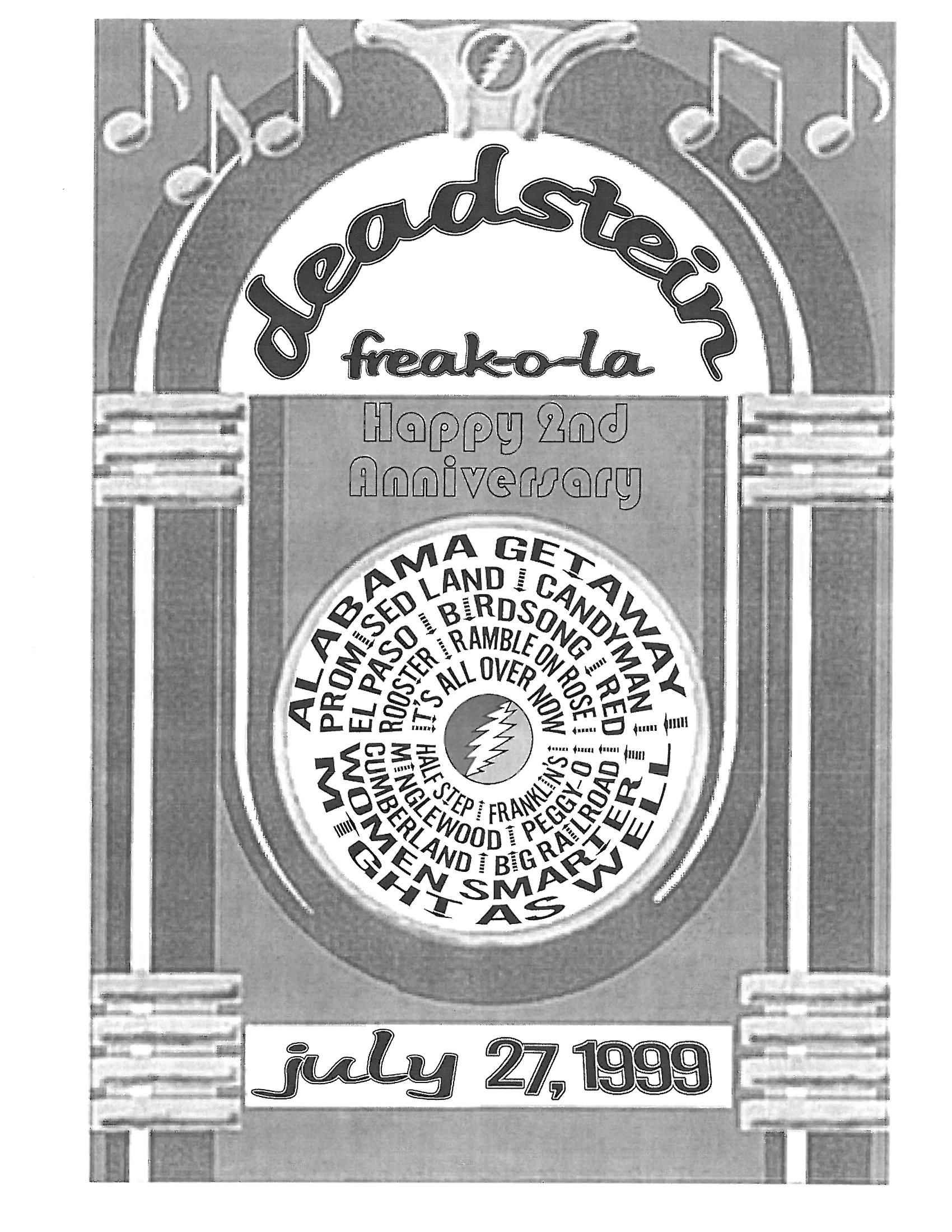 This was out two year anniversary in WWI, how time goes by. Weds., July 30, 1997 was the first night of the new PA in the bowls of William Weiss and its been very good to us.
Patrick gave us one last week prior to his departure and he brought a friend of his who made it all the way from northern Connecticut to see us. I forget his name. Andy's Randi came and hung for most of the show. I couldn't hear her sing again. That was about it for people but we do appreciate all who come and like us. Johnny was there. He slept for a bit, twirled for Larry during the El Paso no concert news. No Brotman and the rest were present. Andy got his mic back. I played Kevin my new single "Nothing is Our Fortune", I'm looking for a singer. Andy Dave and I dabbled on it a bit with Lazy Man Blues. As Andy says, a more traditional arrangement. I was pushing for the implementation of a Deadstein album of our originals. Kevin's worried about the strain it would put on it all. Scott's ambitious. The thought of it make's Dave cream in his pants, Larry can go either way and I just want to use my new stuff.
The music seemed as open, listenable, listening and harmonious as ever. It seemed as if I was able hear and utilize everyone in the room. It seemed small, yet powerful. A spade is a spade. Digital, Digital, Digital. Nevertheless, enough inside.
From the get-go the music was good. We are such a tease because we play so well but give oh so little, but what we do play and give is special. The Getaway was great. I asked Andy how to play the little Bob riff which he does all the time and wish I could play and he didn't know what the hell I was talking about. Kind of like the Siberia Katru, then the Getaway started and he played it by instinct ASAP, which was kind of cute. From there on everything was hot. We just rocked the song.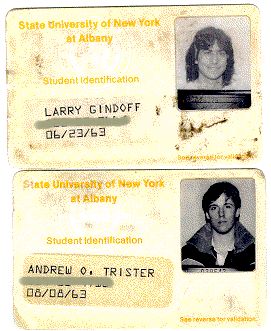 We transitioned powerfully into a great Promised Land. Candyman was just perfect small to big to small. Larry and I had a nice thing going on during his lead when I was playing slide. At least I think it was good. Almost flawless execution. El Paso really boogied and it was very open and inviting where it was just easy to play and play off. There were definitely some excellent things going on during it. Didn't skip a beat, little Tristerlette's sprinkled throughout. Birdsong is another example of some great things we played. Had a little jam going into it. It was never a struggle, always a pleasure. I liked the Rooster also, Andy threw his slide away and I picked it up off the floor. I was liking that slide of his from the Candyman and it continued with the Rooster. We had the quality Ramble on Rose, once again filled with listening amongst all of us which lead to some great playing and riffs. I think there was even good listening of the guitars and the singing.
We made the move to skip the It's All Over Now and went to the Halfstep Franklin's. We had the more correct Halfstep lead for the first time since the new book came out. It worked well except at the end as it goes back into the lead. That seemed a little awkward. Otherwise it was cool. I see why people like it. I though the Franklins was really good, really had spunk and a nice, almost correctly reggae groove to it. Unfortunately we had a seven-tenths deduction on the ending.
We had Deliciozo, rice balls, ices, salad, no butter, the official condiment of Deadstein. Barry Sanders announced his retirement and Lance Armstrong won the Tour-de-France. It was a continuation of several weeks of very hot weather 90's with no rain, drought conditions are beginning to hit us hard.

Directions to 54 Fountain Lane. Where Laura Cohen's Party Is

You can either take the LIE to exit 41North or the Northern State to exit 35North. Both exits will say Route 106/107 North. Take 106/107 north and make a right onto Route 25 East (Jericho Tpke), Milleridge Inn is on the corner, go three lights and make a right onto Robbins Lane (EAB Bank on right corner), make third right onto Freedom Drive, left onto Forest Drive and first right onto Fountain Lane. Our house is second on the left.

(516) 933-0349

Party starts at 6:00 p.m. till ? (6:12 when the cops get there.)