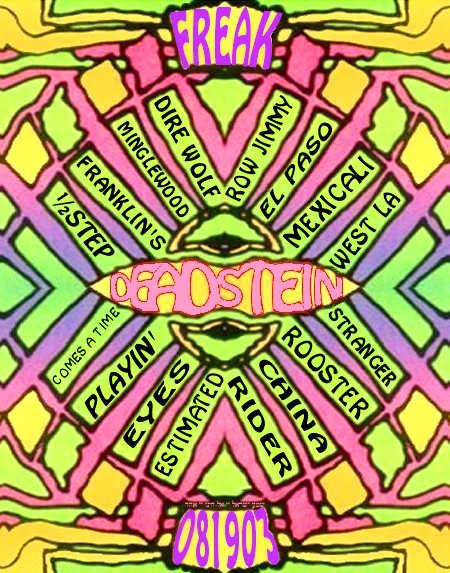 >

It was the first time back in Studio R with the whole band, back from vacation. There were no guests in the room but the big news and a big Deadstein Mazel Tov goes to MiniT who announced her engagement coming back from Minnesota. Too bad she only stayed for 5 songs. I loved the rooster, much better than last time.

Kev's coming back from the Beach and Trister, Coffee-Boy and I are coming off a Meadstock. Relaxed and Rusty at times as a band but some real good moments also. We got better as the night grew old. Started several songs over because of bad grooves. The second halfstep was pretty good wasn't it. I'm sure I missed a song or two, but we played pretty well through the entire night. Not taking too much of a break.

I missed fresco taco before the jam cause of traffic. I did get a couple of pretty good roni-slices at pronto pizza for the ride home. A good thing also cause there was a lot of traffic on Route 3 west on the way home.