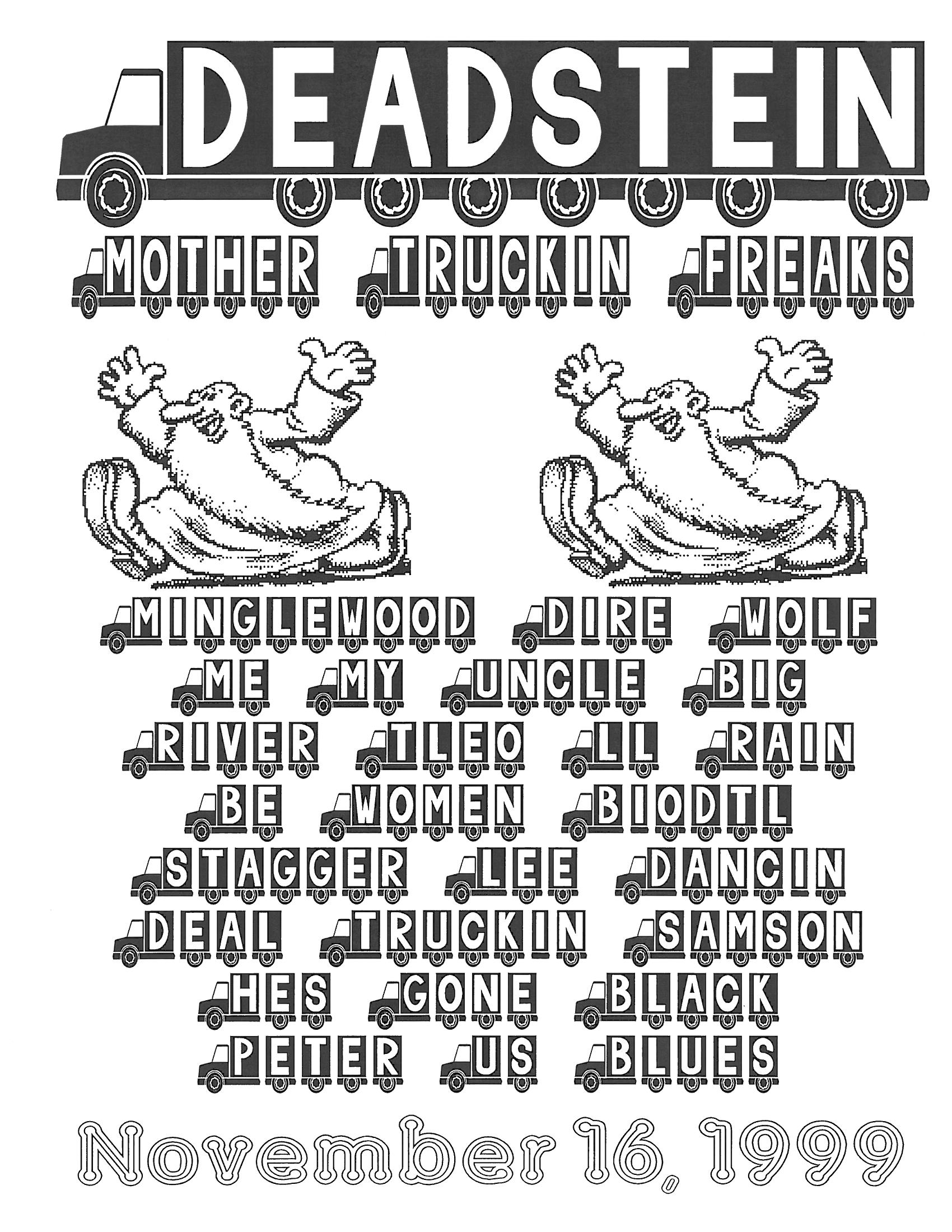 We Larry was still on his Phil run through classic Grateful Dead land. Short of Larry no being there, everyone else show and not a guest was to be seen. We got the food order in early which made for the long strong second set. Highlights included a hot Beat It On Down the Line, Get Out of My Life Woman, Deal and Music. I messed up Kevy world with our long talk of whole notes and rests instead of the Freak Boy inspired eight notes. It was a hodge podge of singing with out Larry being there but we pulled ourselves up by the bootstraps and we all kicked in. I did the Mingle wood, Andy on Dire Wolf, Rich on Uncle River, Andy on Love Each Other. Andy opened the second set singing Brown-Eyed with Rich on Beat It, Andy was back for the Stagger Lee, which was pretty good. Rich did Dancin' and did Deal and it had some hot moments at the end. I sang Truckin' Samson. Andy closed with the Get Out of My Life Woman and Liberty. Dave closed the night with the Music Never Stopped. Speaking of which he arrived at the end of the early dinner with lots of cheap batteries in hand. $1.50 9 volts. That's pretty cheap even for bootlegs.
Andy discovered the RCA/Vibrato plug on his amp and realize he wasn't getting the most out of recently. He now has a new amp to tame because it was rocking on 2. That's unbelievable.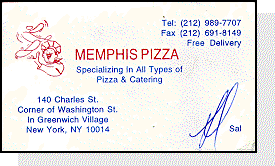 We had Deliciozo, which we had trouble getting the number for until I found their card on the web (www.securityofficefurn.com/dstein/images/memphis.gif) . I had a great chicken parm and good salad. I spilled salad dressing on my green bag on the way up Scott's staircase while discussing with Kevin how I ruined a pair of pants by spilling dressing on it trying to make Deadstein food a leftover. Someone, somewhere doesn't want that to happen and is teaching me a lesson.
Tonight was a very cold blustery night in NYC. Knicks win and go to 5 and 4. The Nets, I can't say if they have even won recently. Trister's gone till after Thanksgiving so we are back to Deadstein "Classic" next Tuesday. Till then.