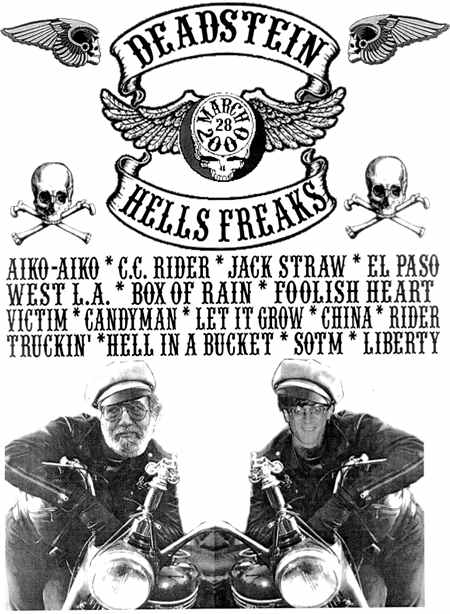 The whole band was there to experience an exhilarating night of raucous music. Kevin was back from his trip from Arizona and was ready to give it as big as the boulders out there are. Kev gave it to us so big that it drove Larry out by the second set. It was a wise move because contrary to the fictitious second set I posted above, there was no second set. We did a lot of lounging around instead.

Guests included John's friend Dave for a few songs and Tefillin-Ken hung out for the whole night, You would have figured he would of figured out how to get a second set out of us but the best he got was listening to Dave strum You Never Can Say Goodbye.

Scott got some new heads for his drums and also one for the conga but he still needs one for the quinta. He had a good moment or two harmonizing with Larry back there. Dave also had a good Box of Rain and Let it Grow. For all the so-called volume problems there were some hot moments including the El Paso and the Box of Rain. The Straw also had some positive energy.

We had a typical Delicizo order and the pizza was really well done, Scott had the ravioli I had veal parm and there were rice balls, you bet. There was no butter but lots of bread. I brought in bugles and cookies.

In the world, the weather was non-descript but there is lots of action in sports. The 11 year tenure of Neil Smith and the Rangers came to a close as the #1 payroll in the league failed to make the playoffs for the third straight year. On the other hand, the Mets begin their quest for a world series as they start the season this morning at 5:30 am from Tokyo. Go Mets Go!

That's about it for now. I'm off to Mexico this week so see you in two, but it can't be Tuesday the 11th. Till then.