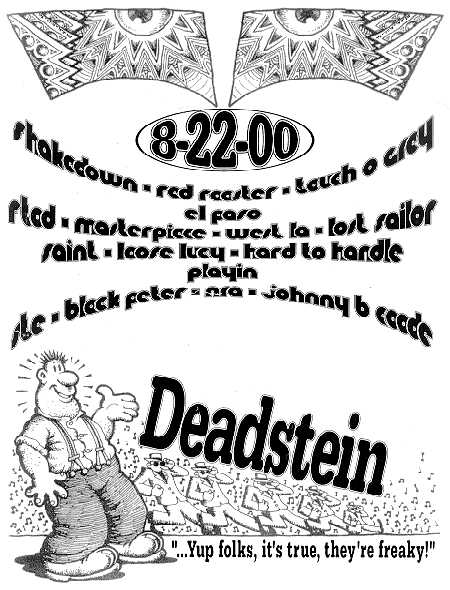 It was a night with no guests, except my Brother and Gary Biali who shocked me during the cleanup so I ended up in the ESPNzone afterwards chugging cokes in an attempt to cure the sour veal I ingested. Nevertheless, it lead to this delayed posting. It was a night worth going home and writing about cause there were lots of hot moments I was lost in and they'll be beyond description at this point. Only those with the tapes can describe them. The one long set, even though I cheated by eating the poison veal in the middle, is really an endurance effort that leaves you woozy at the end of the night. With the hot music we played all the way from start to end, coupled with putrid veal, the night really took a toll.

Dave was a no show and Rich was back. Wappa-Snappa Gola was there for week two and worked well with Larry. They seemed to enjoy each other, and isn't that what it is all about? I remember some nice China Doll moments.

For me, the Zen of the midi thing was there for week two. One week wiser and one week worse. The child's mind was such a wonderful thing. I'll never experience it like I had last week and it will probably diminish over time as I become jaded by it. In any case, I have a new and improved midi unit on order. I should become familiar with my new one because I'm not spending time learning the unit I'm borrowing from Larry. Thank you Larry!!! The guitar itself is feeling great, I love the return of the wammy. With a touch of midi mixed with my array of Line-6 modeled delays and POD 2.0 (upgraded last week), I'm enjoying a spacey sound I haven't dabbled with since my old RP6 floor unit. How long till this stuff end up on top of that thing? In any case, it's a blast. Rich, you should think about getting that Peavey amp of your fixed cause I'm gonna want to take back my other Fender Twin.

Johnny broke out the Russian-Greek Orthodox ruby robe, I think it's confining to his legs and hampers his dancing.

Kevin, under the so-called tutelage of LLB, lead us through the Hard to Handle transitions in the lead and it was pretty crisp and hot.

Trister pulled out the Day Job Playing was hot and spacey, jazzy, and smooth. We transitioned out of the Playing like the Fox 77 with a little Dm jam into "Wo-oh what I want to know . . ." into the beginning of the song. Pretty good stuff done without pre-planning. We had lots of nice moments of big and small throughout the night. We had moments of confusion and chaos. I was pointing to Trister to play a Masterpiece lead, Larry thought the opposite. Coming back into Playing in the Band just collapsed under it's own ineptitude. Like the mythic Phoenix, Larry resurrected it coming out of the Black Peter and it was worthwhile.

Mets lost 16-1 against Colorado and there is serious talk of the trading of Patric Ewing. I have no idea what the weather was last night. I think it was cool and nice.