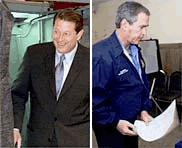 Election Day 2000 and it's too close to call between Bush and Gore. It comes down to Florida to see who will win the closest presidential election in decades. Regardless of the pot smoking, cocaine snorting candidates, Deadstein goes on with it's clean pursuit of freakiness vis-?-vis music.
Andy was a no show and Tommy Whapp-Snappa-5-string graced us with some of his blues happenings and jive-talking. There were no there guests at all but Deadstein played a pretty hot night of non-wavering music. Powerful and confident through the whole night, there were many great moments.
Once again I was enjoying the sounds of my new Weber California Speakers. The have been sounding really smooth and tight, My notes don't fall apart. The bass is driving and not farty and the highs seem round instead of shrill. In addition, I seemed to have good control of all my sounds and faculties to make for a positive evening on my part.
We got the whole setlist in.
Dave only showed for the second set.
Food was a Starlight Dinner who has a beefy burger, bad sodas, marginal BLTs, bad sodas and corrugated Baklava. It wasn't sickening though. That is a plus.
The Loser was really hot, West LA was funcky and the Rooster never dragged. I liked the Crazy Fingers and Cassidy, the were pretty darn good. Baby Blue was right on.
It was a beautiful warm autumn night. New liberal Senators in New York and New Jersey are elected. Hold on to your wallets because they are about to be taken for a ride. Knicks and Rangers take early in the season wins.