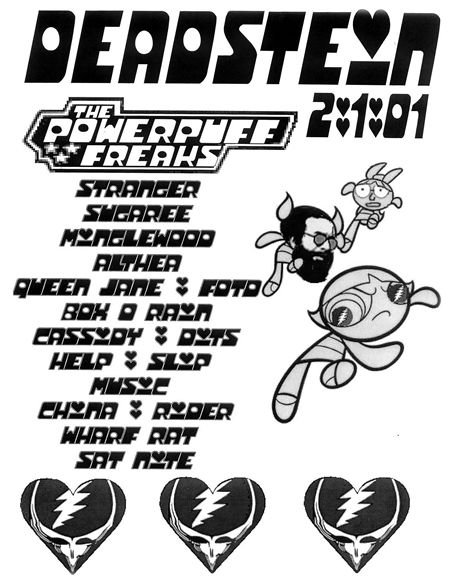 Tonight fate would have us at Vinny's Rehearsal Space. The 5th floor of some warehouse building with a slow elevator on 27th Street. We had the big room which was very nice and roomy. It was comfortable and worked very well and was relatively inexpensive.
Andy was 50/50 and didn't make it. Dave also canceled at the last second. Fortunately, Scott had his phone in hand and gave Larry Menaker a quick call and low-and-behold, he was there, right from work. And it was good. We had some nice tight grooves and builds. It was good to see Larry. Short of him, Tefillin Ken was the only guest. He played guitar and sang 3 songs while I played drums on 2 of them.. Ken had some nice Mr. Charlie leads.
Uncle River flew. Estimated was really tight. We slipped up and got tied into a knot exiting the slipknot but made it nicely into Franklin's. Overall a solid effort.
We played lots of songs and had little down time for the whole night. We played big and hard, up and down. We ate at the uppity Empire Diner which doesn't cater to diabetics or women or dieters. It's tough to imagine. What are they trying to prove. Giants almost won the Superbowl last week and the weather was pretty nice. Look forward to a big week next week at SIR. I wouldn't miss it for a variety of reasons. Least of which is the music.