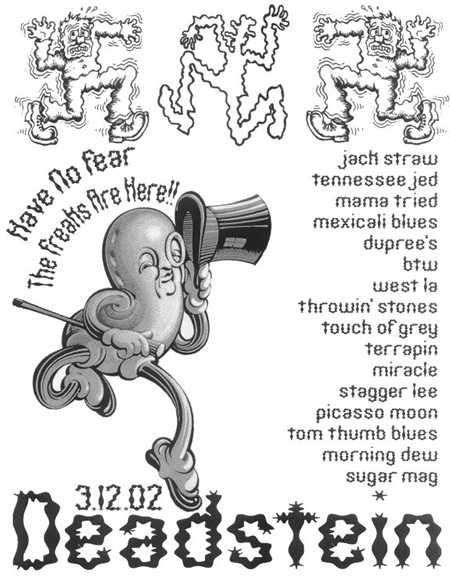 Moving out and moving on. Smash Studios Room A has been improved and proved to be a pretty good sounding and comfortable room though slightly cold at times. It was core Deadstein and we played pretty well. It was great to see Dave make the jam in the very difficut time for himself his father and his family. We are all praying for the best for them. Guests included Donny Hutch from Boston and Stu from Ken? It's amazing any of them found us since Kevin told them both the wrong address.

I got shocked for the second week in a row and ended up playing the whole night without effects though I switched to the Line6 flextone and used it's onboard ones. I had some nice compression with the slide on a simulated Marshall sound using it during the West LA. It was pretty cool. I actually got to sing two songs, though we bailed on the Picaso. Weather Report --> Let It Grow was pretty good.

Kevin, email me a setlist because I picked one up at the end of the night but for some reason, it turned out to be last weeks. Who would think to check?

Till next Monday at Smash Studios again when Kevin and Banjo will have a sleep over party after the jam.