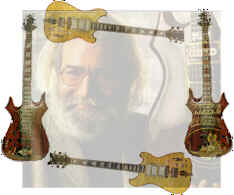 Back in Studio A of Smash Studios. I brought Michael Carpetsteen along with me because he really loves singing background vocals with Deadstein but little did he know when he got there that he would be called into service to play bass the whole night. Kev was still recuperating from finding out he's healthy, thank G-d, but could get it all together to also make the jam. Fortunately Dave was thinking ahead and brought his bass and voila, we were in for a night of music. The only guests to stop buy were Stu and Bev who hung out for a song and seemed to enjoy us. In addition we played our Last Waltz for Tommy Banjo as he has been requesting. It was the opening of Jack Straw and it was nice. I guess it's now time to update the website.

We did the round robin of picking songs to play and it was a lot of fun and worked well. I think we all sang pretty well and the song selection kept us on our toes. The sun was setting nicely over the western sky in the studios and for our first few songs Dave got the full effect of the sunset in the mirror. While beautiful, it was difficult to deal with the sunset for it's long duration. Remember to bring sunglasses next jam. Michael is like to opposite of Kevin from a bass perspective and people were telling him to turn it up. instead of requesting to take hime out of the monitor which he is not in. Nevertheless, it's great to hear Kevy is okay and that he's not paying for all those cheeseburger cheese omelette sandwiches, yet.

For food Michale and I had the C-5 Fajita platter from across the street which really was good. Not the While Castle from last week but it was a bulk food festival. Dave also had nowhere to throw his Dunkin Donut bag. How are the CD's?