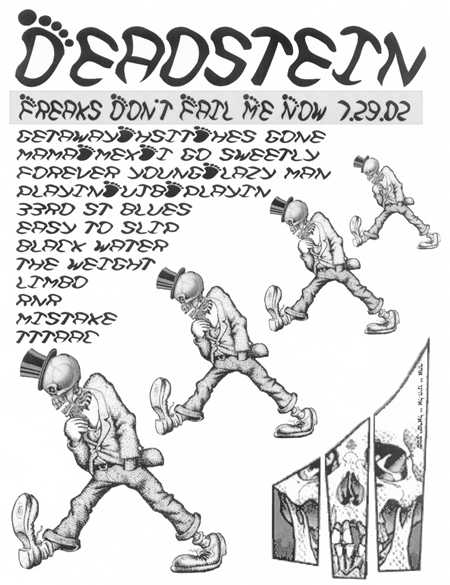 It was Dave's birthday show during Dave's birthday month, so he got to select the setlist. Thank G-d the month is over. All kidding aside, the list was tailored with Dave and Terez in mind and we did pretty well on most of it.

Guests in thhe room include Ken and Stu early on and Dave's brother Rob and his friend Harris showed toward the end of the night. As previously mentioned, Terez joined us for the 3rd oime so far and I think we may have gotten some of her best material to date.

This week featured the breakout of a few Deadstein originals, including two by Rich and Lazy Man Blues from Dave and I. I was amazed at how well it actually worked. The Torn Andy brought in was also well played and executed. I thought the Getaway was terrible as was the Mama Tried.

I got a good recording using the 24 track recorder, and only forgot to hit record once and therefore missed the He's Gone. No big deal. I got home last night and was able to quick mixed a few songs so I could listen to something on the way to work today, and boy and I tired. So I have heard the Playing --> Uncle Johns Playing, My Fav Mistake, Rock and Roll, Beat it on Down and Johnny B. Goode and the recording worked well and they sound good. We really ended nice and crisply with the Beat it on Down the Line. I still hate that mini AKG on the snare, it has no zip and is way too round. I tried the AT4033 on Kev's Bass and it all seemed to work. I picked up the vocals through the PA inserts and they sound good and I go Rich playing either the piano or key's. 24 tracks are nice to have.

Till next Thursday.