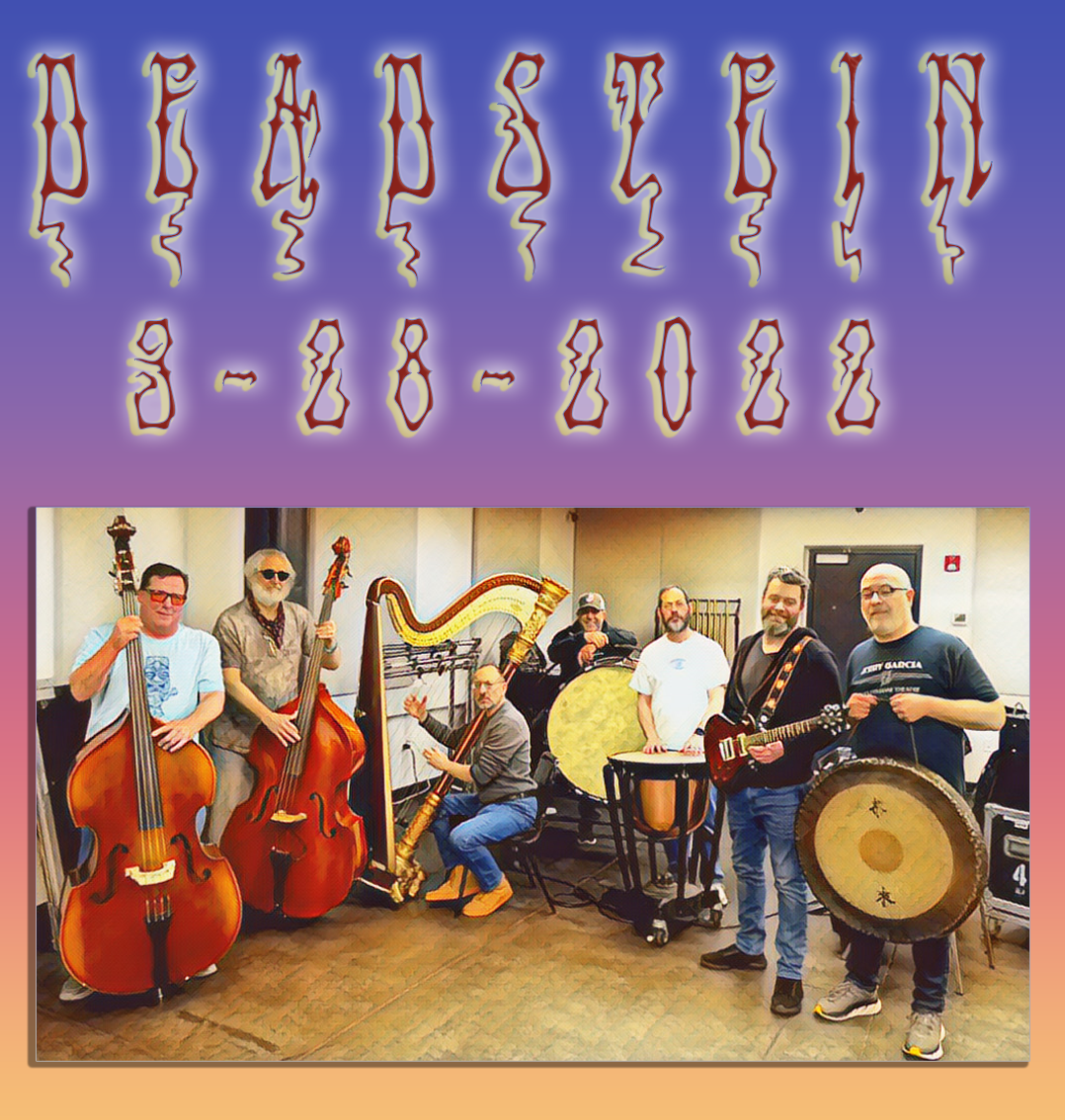 Drew was on the throne to join Scott back there this week as the April 13 Bitter End show featuring the "Workingman's Ace" theme was on my mind. Andy got us down a long path for him with a nice simple Bertha. It always gets you moving for the night ahead of you. What Andy wasn't ready for was the Looks Like Rain lead. It was the second song and I guess Andy hadn't verified all his effects and by the time the lead came around, he was scrambling to plug in things and tame their uncontrollable growls. It was shame for that song but a lesson to be learned. A preflight check is always a good idea if not necessary idea. Dire Wolf got us back into the Workinman's spirit as we keep improving our tightness on that number.
We rarely play the Passenger, but I threw it out to give us an opportunity to let our hair down. Andy played some screechy slide leads during it but it moved. Push Comes to Shove was great. When we finished that song it felt like it was a number we can present to anyone at any time. A real A-list member. Rennie took a break and Rich lead us through the Easy Wind which is also getting better, hopefully peaking as we approach April 13. Andy said he listed to our Isn't It a Pity from last week when he wasn't there, a shock in and of itself, but he said he was thinking about a George Harrison slide rabbit hole, so we played it again. This is also getting better and better.
Rennie was still in the hallways, TCOB, so we did the Eyes of the World which Rich took the lead vocal on. We had a pretty good A-flat Minor jam, 74 style at the end of it which gave it a bit more in the flavoring department. It was like an Eyes of the World Deluxe. I thought we hit the Cold Rain right on target at that song keeps ascending up the Alphabet list. Mexicali, like the others we've been working on also felt much better than previous models. New Speedway is a great song. We have all these songs Kevin hates to play in the setlist but on several of them, I think it is finally beginning to catch with him. As such, the New Speedway a was great. Walk In the Sunshine was expanded with the the extended jam at the end which proved to work out really well. We then ended with another few songs on the traditional Andy "Deadstein Shouldn't Play" list but all of these keep showing why they are working their way out of that dungeon. Cumberland moved great and was well played. Same with High Time, what a juxtaposition of moods between those two songs. The China Rider was so out of the bad-list from Andy's perspective that he started it as his 14 songs of the night, loosing track of time in the quality music we were all making. Even got him to stick around for a 15 song, Casey Jones to end his night around 10:30
There wasn't much time to play for the second set, but we made a lot of it. Without Andy I by myself on lead guitar, playing my new loaded pickguard I recently installed on my 1986 Red Squire Stratocaster. The tone was nice throughout the night, playing through a Fender Twin. I was satisfied with the sound, nothing more than traditional Stratocaster tones, but that is what I was going for and in the second set you an hear my guitar shine a bit more than the more subdued role it played in the first set. Speaking of which, I like the mix from this week. The Greatest Story with me on lead was interesting for me, playing different stuff during the between verse instrumental parts. I have to check that out to see how many clams I laid during it. We did the practice of the Uncle Johns Playing with a Terrapin Johnny B Goode to end that segment. Just over a half hour in length, it was meat and good. The Johnny B. Goode we hardly ever play, and it a surprisingly good. Same with the Wake Up Little Susie to close. We wanted something to feel good about leaving the studio and that was a perfect capper as we played it.
Freak Out!