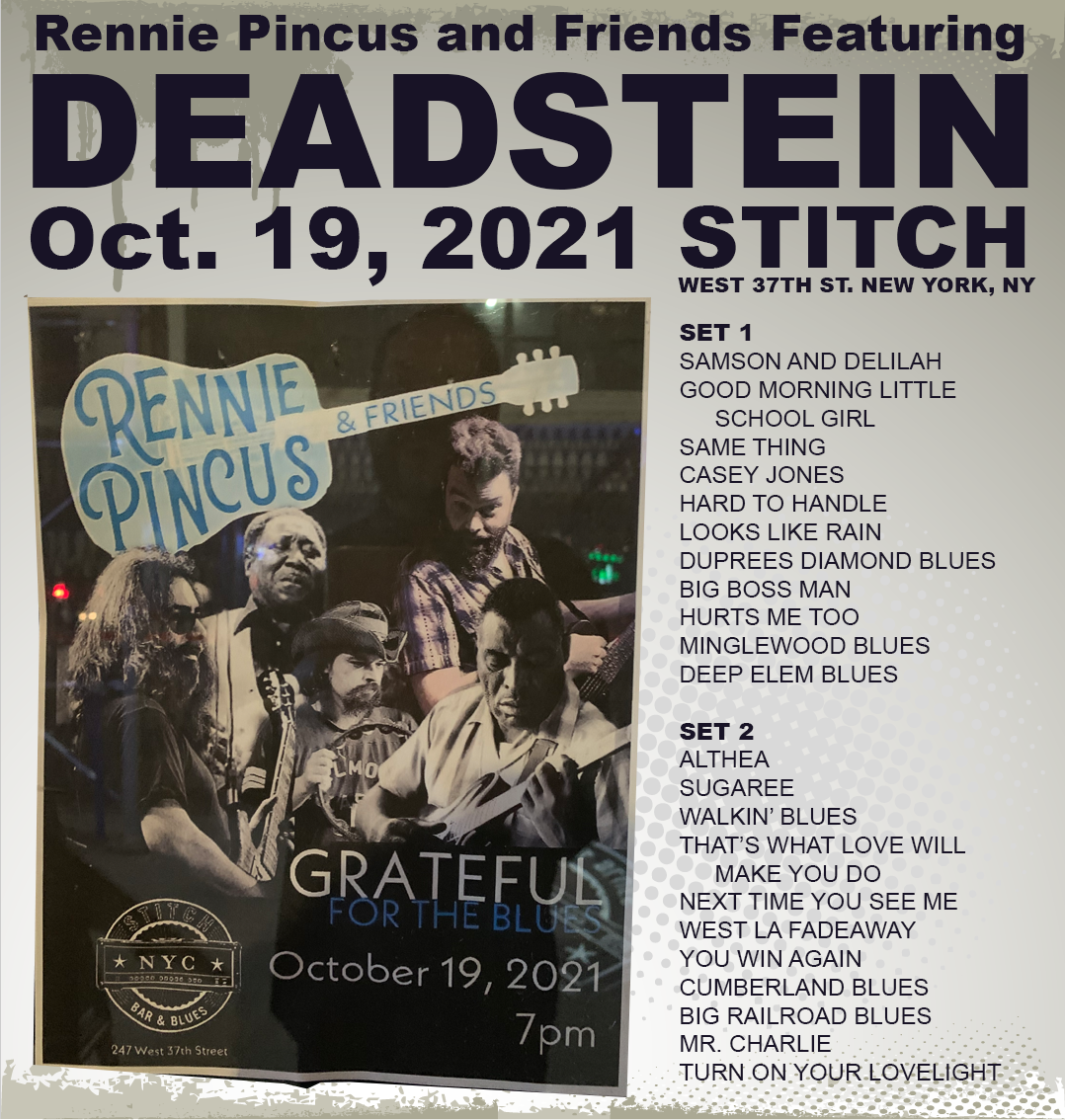 A continuation of Deadstein and Rennie's fall tour 2021 found us at a new place. The Stitch, a bar/restaurant located at 247 West 37th Street in the heart of the garment district. The tight stage found us with only Scott drumming for the evening. It didn't mean we didn't take up every bit of the stage with the personnel we could find. This included a substitute bassist for Kevin who had to take care of his parents and missed the jam. An impressive showing for a stand in, not stand up bass player jamming with us for the first time. We also had a very authentic PigPen play with us replete with harp, attitude and hat. Lovelight's Alyssa joined Rennie on some songs and the band was complete.
Andy was donning his brand new Players Professional Creamy White Stratocaster with the new sticker still adhered to the body. I was playing my PRS all night with a lot of slide to go along with the blues themes and all the harmonica playing. I felt more comfortable with this slide playing than my typical slashing of the sound spectrum. As far as a band sound, we were pretty good. Although there weren't a lot of people there to enjoy us, we put on a good, energetic show and we did get some of the women dancing to our jams every now and then. All the way through the Lovelight to close the show, which we never play, we held our act together.
To open the second set, this guy Christian, with a Huumbucker Tele joined us for a few songs. he was the owner's friend so we let him play a few tunes and he was a nice addition to us, rockin' and rolling at a hard pace. Over all it was a fun night night of jamming, the blues numbers did seem to have a repeating feeling to them as we played, but we kept things fresh somehow and it turned out to be a good gig. As of the writing of this blog I am still awaiting hopeful and surprising soundboards of the show from Jason the soundman. I got as teaser of the Althea and I hope there is more. If we don't get the soundboards, I will end up assembling the videos of the show from the audience recordings we have
Freak Out!