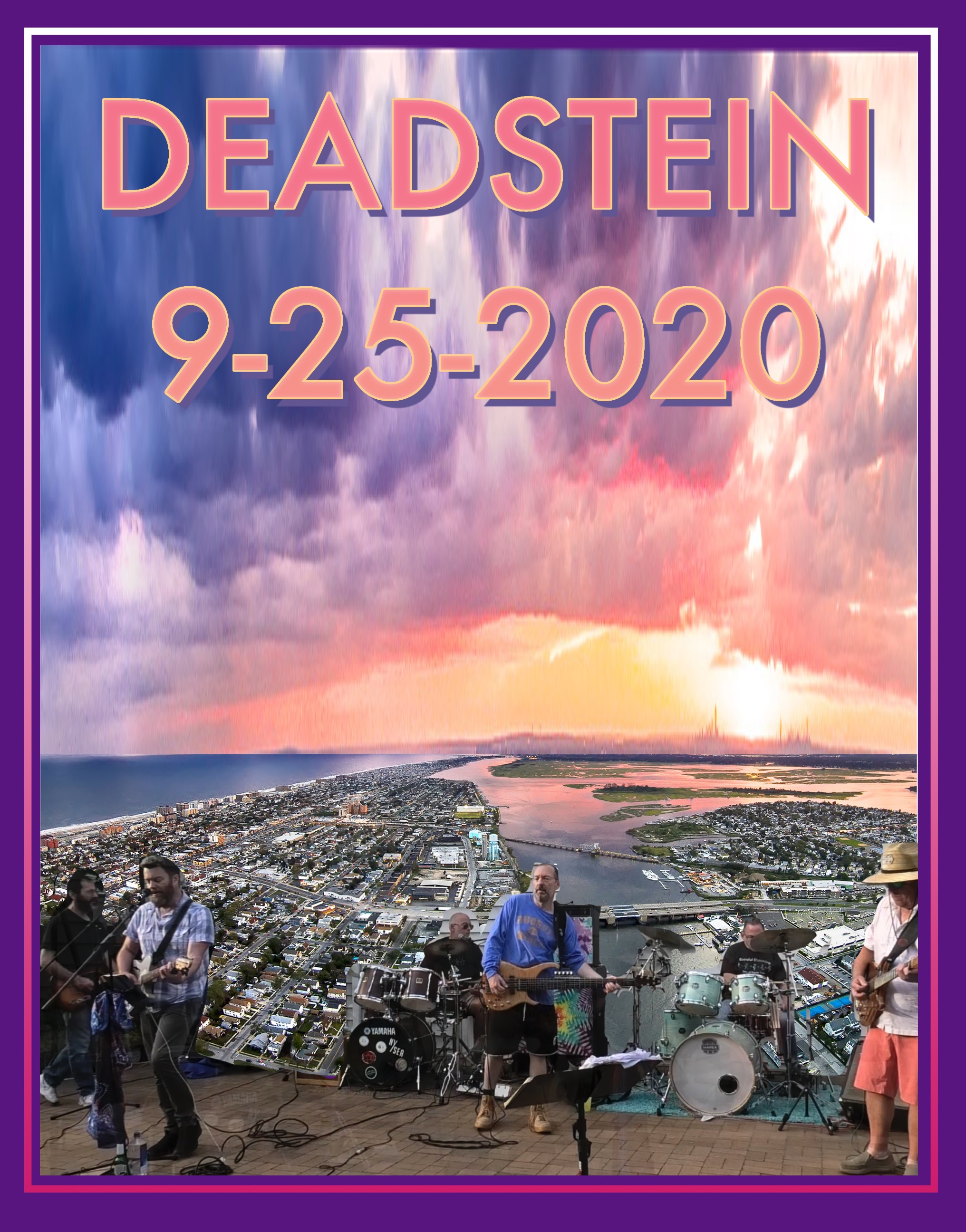 Back From the Brink
March 12, 2020 to September 25,2020 is the longest span Deadstein has gone without jamming or seeing each other since we started playing in October 1990. The Covid19 Pandemic brought a stop to a lot of things this year and screwed with a lot of stuff and Deadstein was not able to slip through its grip.
Since March 12, we have had to resort to no live jamming whatsoever. Some of us discovered JamKazam and we able to play over the internet. For the first several months it was a marvel and kept our interest in many respects. It still is and a great tool to know about going forward. We were going strong, meeting and laying on JamKazam almost nightly in the spring. I think it helped us keep the chops and memory working with respect to playing the music. In addition, since it takes a lot of discipline to play on JamKazam, I think it helped us all in our structured playing and focusing on timing.
Kevin and Larry Get Original
While Scott stayed strong, building a community of JamKazam friends from every corner of the globe, the Ghandi of electronic drums, Kevin and I faded away from JamKazam. In its place, I created a song writing game where Kevin and I would create a song from 4 loops which we would each select. Typically two drums loops and two other weird loops. Short of using those 4 samples, there were no other guidelines on what the songs was to be. I thought of the song writing challenge much like the TV show Chopped, where you have to make a meal out of a basket of selected ingredients, we just do it with musical ingredients to create a song. I had never written songs before and Kevin had just gotten into recording music for the first time in over three decades and he got a working computer audio setup to go with JamKazam. We didn't know what to expect when we met on JamKazam for the first time to react to each other's creations using the same set of ingredients. It was an amazing experience how good and valid both songs were and also how incredibly different they were. These songs took us about 2 weeks a piece to finish up, nothing to serious, a sketchpad as Kevin would say. For me it's amazing I have the catalog of songs. Much like my painting from a few years ago, the songs are not great but the are real, authentic and something I created basically from scratch which are recognizable as the medium in which they exist. Now we both have 11 songs a piece and we are still at it. Who would of thunk it? This time off gave us time to develop writing desires and skills.
CheckOut Kevin and Larry's Original's
The New Reality
Back to Long Beach. With all this written and all the time under the bridge, it was obvious that the live jamming experience, which we all enjoy so much, was sorely missing. When Drew presented the opportunity to get back together in a safe, socially acceptable, distancing environment, I did what I had to do to make it happen. I got out of my bunker, purchased a JBL Linear Array little pack-up and go PA system for the event. I took a Friday off to head on over to Drew's backyard for a 2pm jam, first one in over six months. Now that is exciting. I was second guessing myself in the two weeks leading up to the jam on the PA purchase. I didn't think the little PA system could compete with a full Deadstein barrage of music and for the same money, I probably could have gotten something a bit beefier, but the thing is only 37 pounds, smaller than guitar amp and setup up in 30 seconds. I figured it only had to amplify vocals so maybe all the hype would prove true.
Video Streaming and Recording
The pandemic has caused so much change, one of the thing is our increased reliance on video and internet to help us social distance. As such, I embarked on the world of video production at work as a means to keep recycling education alive. I bought a Black Magic Design Atem Mini Pro switcher for work, a bunch of cameras and other equipment and then when Black Magic Design came out with the new Atem Mini Pro Iso, which multi-records HDMI sources and time-codes them, I decided to purchase the unit for myself for eventual use to record Deadstein when we get back together. In addition, it provides live streaming capabilities while it records.
The jam at Drew's would give me my first opportunity to use all this new equipment, new pull out of my ass PA system and pull out of my ass video recording and streaming studio. I had a lot to think about in preparing my technical attach on Drew's jam. It was going to be my first attempt to both multi-track video record and simultaneously live stream to Youtube. That's a lot of pressure, but you know me, that's my element and in the end I pulled it off but have so much to learn from the mistakes made during the day. The video 4-camera shoot was synched with Rich's 2- track audio mix. I edited the video in Black Magic's DaVinci Resolve for the final 18 videos of 22 songs, which I posted to Youtube. It was a lot of work to edit in the end, but learned a lot and the final result in a great representation of the day's great jam.
Playlist of The Videos
Gives Us and Thumbs Up and Subscribe
Lesson number one, take care of the audio feed first and foremost. I didn't do this as all my video cameras were set to a bad on-board microphone setting and all the audio I captured distorting badly. Unfortunately, this is what the people were listening to live on Youtube. The first four songs on Youtube had a bad delay in the audio causing us to lose many of our live listeners. We had 16 simultaneous live viewer at one point early on. In total 33 different people tuned into us at some point. Not big numbers at all, but friends and family from around thhe country were able to tune into us live, a first since the Pseudo days many years ago. If the audio would have been good, the overall stream would have been great. Definitely something to build upon which is pretty cool capability for the future.
Got To Love Deadstein
Most of us arrived around noon and it was a gorgeous hot afternoon. Except for me, everyone had a super easy setup, but it took me all of two hours to get all of my crap ready to go, but it did go. I didn't heave time to really think about playing music, so I simply plugged my Telecaster into my Twin and didn't even use any effects. I liked the tone of my guitar through the jam. Outdoors always seems to sound so good; open and clean.
Andy didn't arrive until just after 2pm, so we decide to open with a Bertha without Andy at 2pm as promised for live stream. This is the amazing the thing. We haven't played since March, I have a billion thought buzzing through my mind regarding the video and even the PA. I plugged everything in, set the PA around 75%, a little treble, cut bass and add a bit of reverb, hit record, hit On-Air and we start Bertha. Boom, Deadstein rocks and sounds great. I mean, listen the the 2-track ambient recording, you hear ever thing and we sound like an enjoyable, good sounding band. The vocals are clean crisp and loud. I don't think I have ever heard vocals sound so up front and not muddy as what we had during this jam. Just a great testament to us as a band. Thirty years of experience have started paying some high-yielding, long-term dividends.
Some notes and highlights of the day and the jam include 22 songs most well performed and not real train wrecks. Well, we did clunk on a going back into Not Fade, but that was it. It was a big jam, shows great stamina and provides for a truly satisfying experience. The neighbors over the fence cheering and requesting songs were fun. The Terrapin Station as twilight approached with a nice breeze with the setting in the sky brought back a lot of great memories for Kevin and I. Realizing we are the lucky few to be in a position to play such a real Terrapin Station in this environment. It's why we rise, fall and climb to get to Terrapin. Finally, playing a Brokedown to close the day. It was an extra songs and it was sweet and sleepy. Rennie was singing great all day with the pristine PA, we pulled off a truly beautiful Brokedown Palace. A better Deadstein Brokedown I cannot think of. I got to thank Drew, Scott, Lee, Rich, Rennie, Andy and Kevin for joining me on this Deadstein journey. 30 years ago I never thought I would playing music like we do and I know its been rough at times, but hopeful we can really begin to enjoy these long-term dividends.
I haven't type this in over six months and it also feels good. Freak Out.
Listen on Live Music Archives