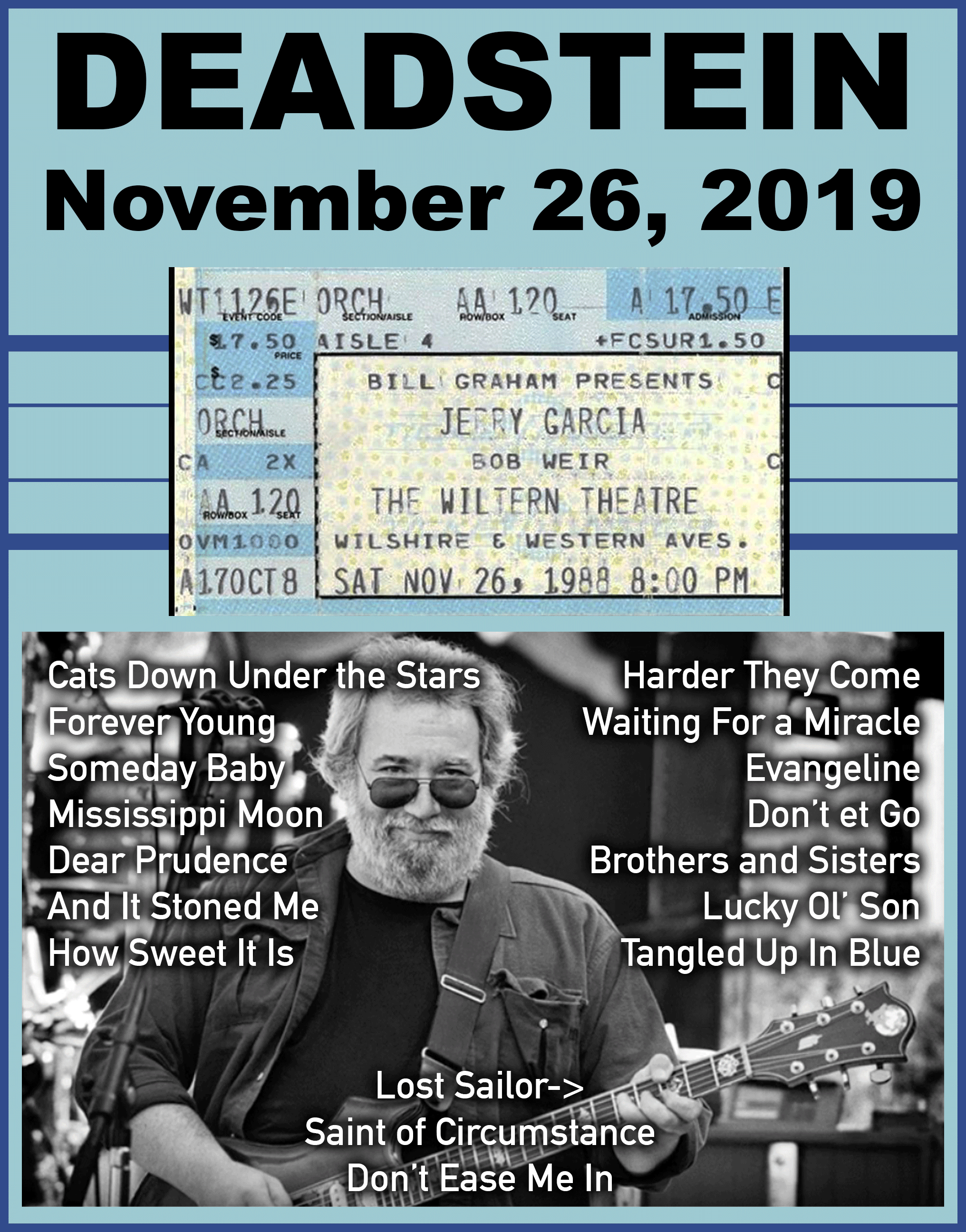 Just a few days after the glorious Tir Na Nog gig Deadstein did what does so well which is getting right back at it. This meant playing a whole bunch of Jerry Garcia Band music that has been oh so neglected while we were preparing for the aforementioned gig. The November 26, 1988 Garband show being the anniversary tribute which we would play homage to.
Drew missed the first song but then came in gushing about the gig with a closing that what we do is too special to take for granted and wishing us all health so we can continue on with this journey. With that, we embarked on Frever Young to continue with the Garband tribute.
This week it was Drew and Scott on drums with me being the only guitar in the room. Rennie wasn't there which meant leaving the vocal chores to Rich and I. The nice thing about playing a tribute show is that it forces you to do songs that may otherwise get vetoed. Someday Baby was one such song and I am glad we did it. I can't say we have played to too often, or oven ever, but it was cool to do.
I had my Rags the Guitar Jerry Tribute Phred Guitar which was fitting for the music. It felt pretty good all night. Dear Prudence had it's moments as did the How Sweet It Is. While much cruder than the fine music we played over the past several weeks, this Garcia Band music is supposed to be more corse and back to the basics. The Garcia Band is grueling at times and that showed at times, but we did the whole show and with some authenticity that was worthy of Jerry's effort.
We had a few moments to play after the tribute and I felt obligated to throw Kevin a bone after all he put up with playing this show. The Sailor Saint was the bone, but we spit it out, it wasn't a good effort and the Don't Ease as a throw away to end the night was the throw away.
In the end the total time was 2 hours and 7 minus. Shorter than usual but the traffic into the city the Tuesday before Thanksgiving was really bad. The good thing is we will all make this pilgrimage again. Happy Thanksgiving as while you are eating the holiday turkey give thanks to the turkey we make each and every week.
Freak Out