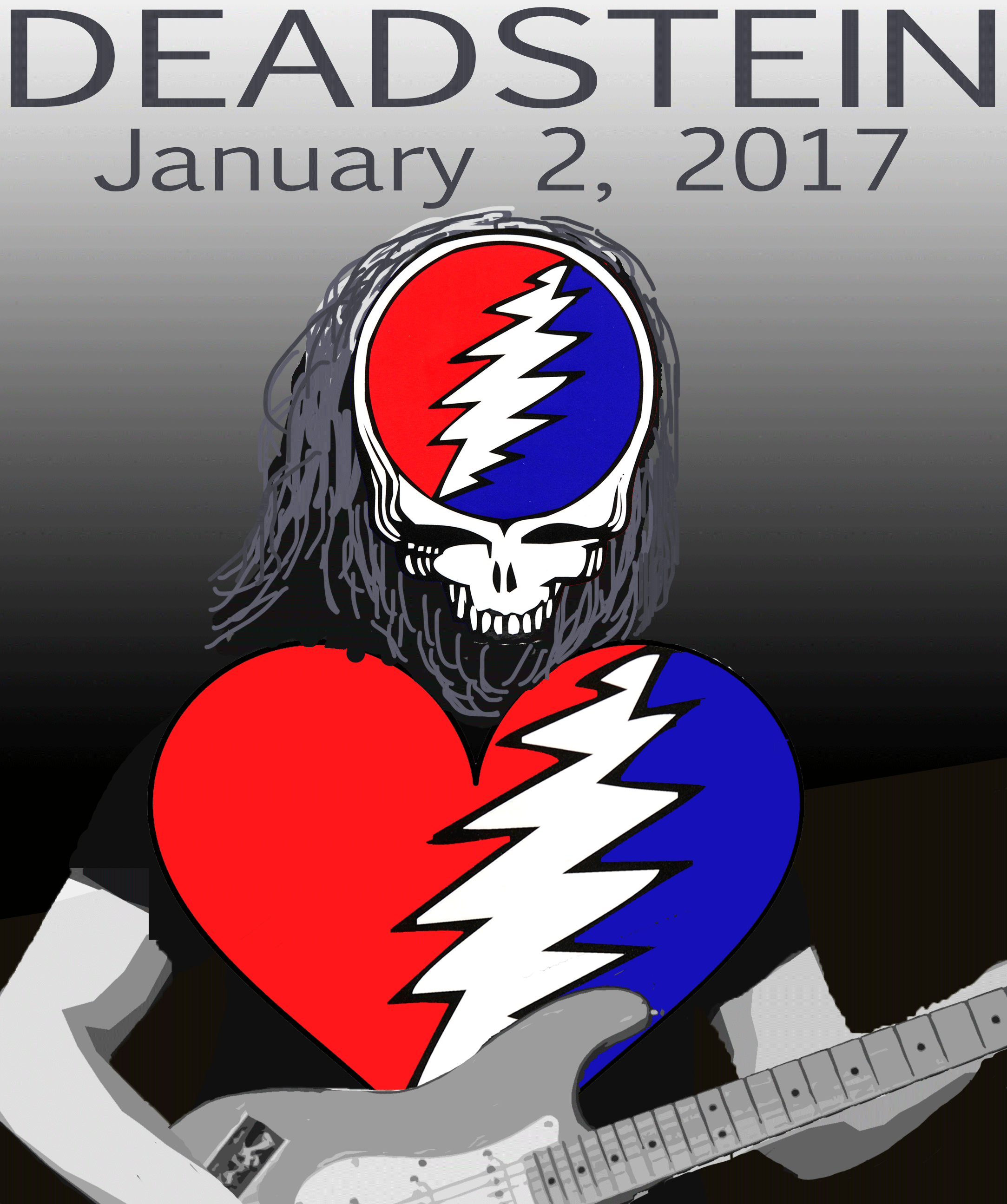 2017 started quite differently than 2016 ended in that Kevin was back on the bass holding down the low-end of Deadstein. He missed the final two weeks of 2016, recovering from a few broken ribs, leaving Deadstein to scramble to keep the mother rolling, but rolling it did. We finished 2016 with 52 jams, and having the first jam of 2017on January 2 helps put us on track to meet this jam-count for 2017.
One thing that carried over from 2016 to 2017 was the presence of Andy Trister and Kendall S, the Connecticut contingent, which has brought a new sense of quality to Deadstein, the likes of which we have never seen in our 26 years of playing. This is a very nice turn-about.
Since Kevin was out the previous jam, I didn't get to try a parody song I penned leading up to Christmas called "Happy Deadstein (Work Is Over)." This song is a parody of John Lennon's "Happy Christmas (War Is Over)" and I appreciate Deadstein putting up with me to try it as out first song of 2017 and a sound check for the night's music. I guess it came out as good as I could have hoped. It does describe the Deadstein experience In a happy little song. Kendall, et al. walked right as we were going to start our second song "Let It Rock" which we proceeded to do without here.
Kendall and I selected had certain songs we wanted to play this evening but we started with a nice warm up of the Sugaree to get the festivities going. We did a few combo following including a Here Come Sunshine, new to Kendall, into a Bertha which is in her bread-basket. Terrapin Station into Morning Dew was something we worked on and wanted to incorporate into this jam. After years of doing a terrible Bobby Terrapin, I finally learned many of the Bobby parts and successfully incorporated them into this version, played at a quick 70's pace as opposed to a slow 80's pace. There Terrapin was nice an snappy and one of our best. Same thing with the Morning Dew. We played it last week but to repeat it again this week with the 4-6-82 Spectrum version as our template lead to a great Deadstein version of Morning Dew. This singing and instrumentation and overall vibe of the song was right on. Following the "I guess it doesn't matter anyway" to end the Dew, we launched into a 35-minute 5-song combination (Estimated --> Stella Blue --> All Along the Watchtower --> I Need A Miracle" which was all strong and exciting. Kendall really hits the I need A Miracle Right on.
We finished the 5-song combo at 10:10 and it was time for halftime and for Alan to leave for the night. We would focus the rest of the night on some recently ignored Garcia Band Music. Catfish John is a nice one to get Kendall going on as she shared that one with Andy on vocals. Somehow Kendall knows excels at some of the more obscure Garcia Band stuff like Reubin and Cerise and Rhapsody in Red which she injects new life into. We also played the Cats Down Under the Stars but I failed to hit the recording button and we missed it. That was okay as it might have been our weakest song of the night. We shall never know.
There is some really good music on these recordings from this week and we hit the marks on several occasions. Looking forward to Kevin and the rest of Deadstein getting stronger and stronger at 2017 moves forward.
Freak-Out