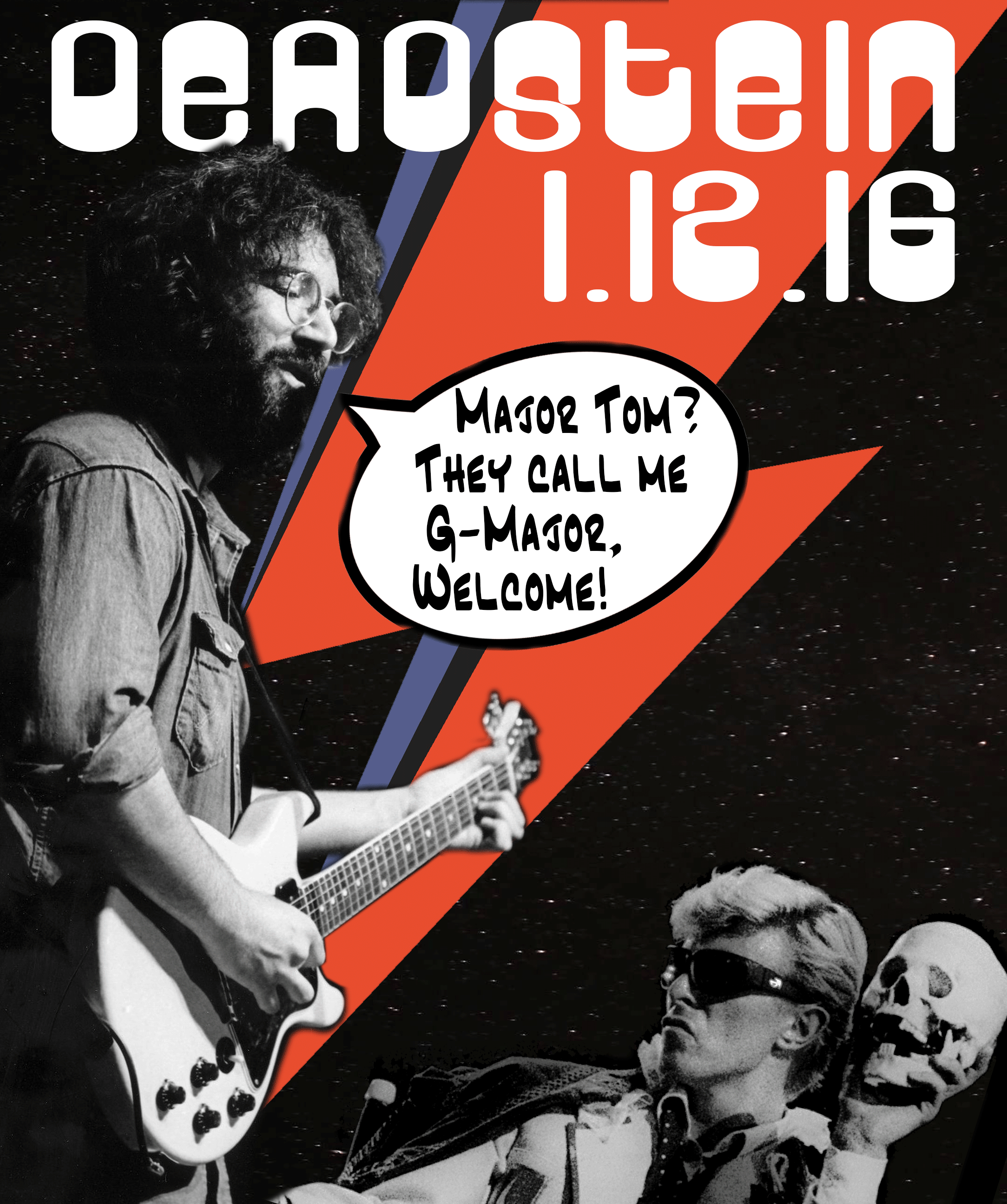 Another easy comment into the city got me to the jam right at 6 leaving plenty of time to set up. Kevin was right there with me and when he got there he informed me Alan, who "Woo-ed" earlier in the day called in sick to the jam. This meant no microphones for him and a couple of more on the drums, Toms, to be specific.
Speaking of Tom, Major Tom or David Bowie suddenly passed this week, a couple of days after releasing his final album and video. Good for him leaving the world with some new material as he embarks on his great jam in the sky. Deadstein didn't know or even have any hope of playing any tribute songs to him so we didn't.
What Deadstein did have was a night of Jerry Garcia Band, for the most part ahead of it. We started with he Rhapsody, which hasn't been played in some time, and it showed some fragility to it that it shouldn't have but it got us going in a big way. I wasn't having the best night as far as playing but I was getting through it for the most part, and if you could forgive the many errors in the songs, there is some good sounding stuff this night. The Expressway jam into the It Takes A Lot To Laugh has a real good feel and sound. That's All Right Mama is about as well as we could play it with this line up. The the Money Honey had a good authentic groove to it. We were channelling that early 1970's Garcia Band throughout the night. We got a nice Dixie in, which we also haven't played in the longest time and I even through in the Lonely Avenue at the end of the night for good measure. And let us not forget the epic 19-minute Birdsong. With all that said, this was JAMID 1111 on 01-12 and the is only the Freak sharp in the G-Major scale, so "Freak-Out"