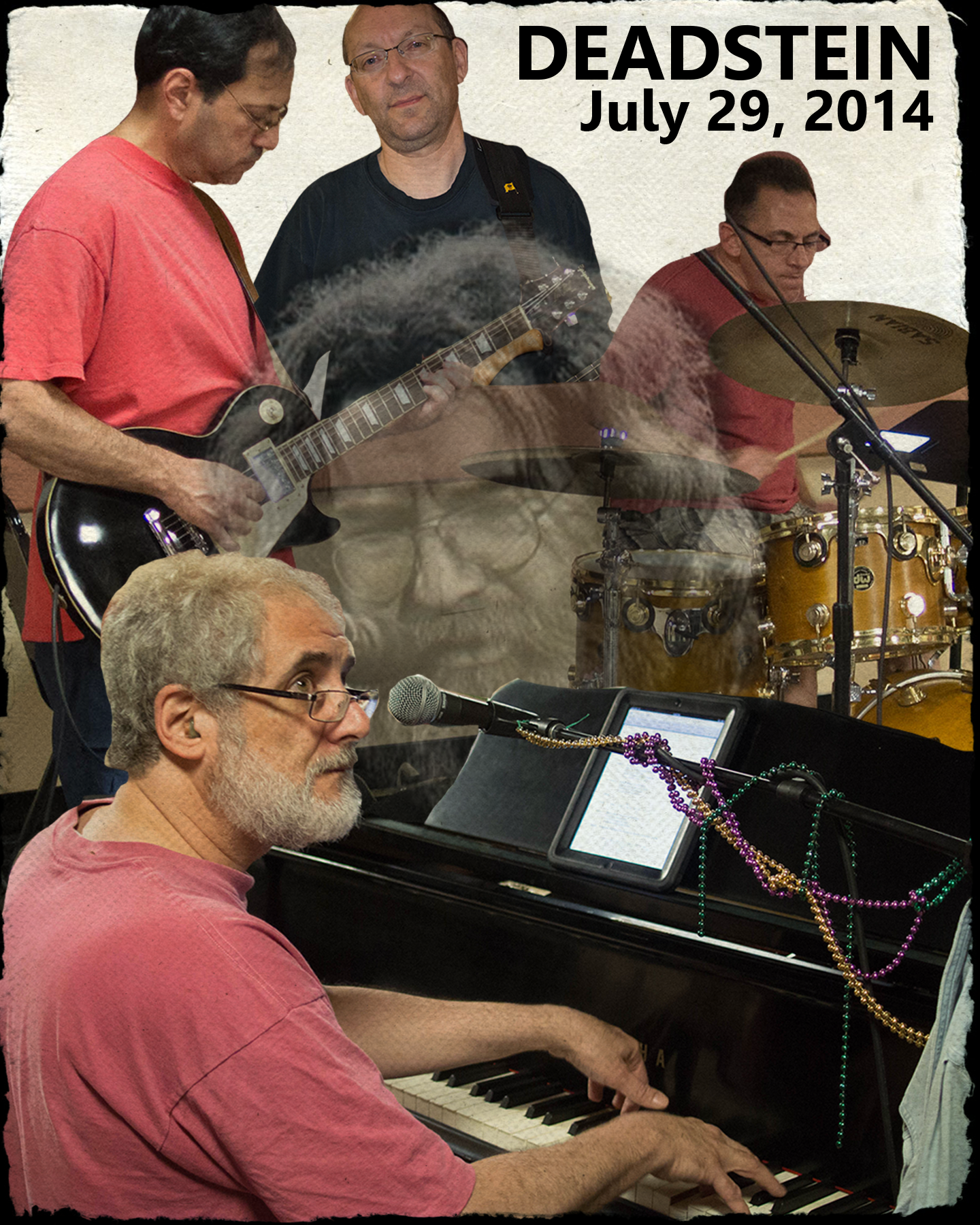 With Alan out of town and Scotty on the mend it was going to be a small yet or four type of Deadstein experience this week. Though Scott did actually surprise us once again which I guess is no real surprise and he joined us for singing some background vocals and one song DO feel you but besides that we were up your Jerry Garcia band this week at Deadstein
Last week we didn't play any Jerry Garcia band whatsoever so knowing that we would only be one Guitar it was going to be a full night of Jerry Garcia band and from the get-go Kevin knew he was in trouble. But in the end he wasn't in trouble because we played pretty well and a nice beefy type of Jerry Garcia band set that kept things on the move and didn't lag whatsoever.
I think much of the praise has to go to Lee really took a nice approach in keeping the music moving forward without pushing it too hard it was therefore a pretty relaxing feel to the music without getting too sloppy. Rich was explaining how he really enjoys this formation of a band with one guitar one piano one drama and one basis he thought it was the most fundamental foundation of a band and was looking forward to the feel of it.
From the first moments of how sweet it is it seemed as if this was really going to feel like a core for quartet type of jam. It was much less dense then usual and gave a feeling of elbow room and I think with Lee's constant drumming and reliability behind it gave us confidence to enjoy the elbow room and it made for a nice relaxing environment. The sound was pretty good even though my monitor would kick off if I sang to Lowe's so I kind of had to scream and that every now and then just to get it going but other than that the room was sounding good. I set up behind Lee once again getting my AmpKit's to him and was able to communicate between them pretty well with that type of locational attitude.
As I stated, this was a purely Jerry Garcia band type of experience so we started with the how sweet it is which is a typical good starter of it and went into the dear Prudence there afterwards. It was pretty good stuff all around. You see, we came in with a list of Jerry Garcia band songs that he wanted to play and for the most part was songs he thought that we hadn't played much in the recent past so he wanted to give them a try. The third song, get out of my life, was one such song and I think we did a really nice job keeping up the groove on that song.
Though I didn't feel as if I was blowing that well and feeling that good about my capabilities I kept with a good attitude thinking you do what you can do and just move on doing the best that they can at the moment and that kept me going for most of the night and seem to work. Of course, find the second set and the tailing end of it we all tend to get tired and dragged it and things get a lot more sloppy, and this night was no exception. Nevertheless we played 17 songs was a big fulfilling night only DO feel you was the only song that we street from our Jerry Garcia band groove so the whole night had that good solid Garcia Band feel to it.
Knowing that my new Guitar I call it rags, will be coming in next week this week was probably the last week you're going to see me with my Apple phone Les Paul for quite some time. That is of course unless this Jerry guitar I just got is a total bust. So in that respect I wasn't really thinking or concerning myself too much with worrying about my tone and trying to find it I just dealt with one I had which was a little thin for the most part coming out of my boogie amp but it's still carried through the night and sounds okay on tape I think is relatively good balance with the rest of the band. And like my new guitar which will be a new beginning for me and probably Deadstein a bit the new release of the Jerry Garcia songbook version nine is just around the corner and it's at the publisher waiting to be printed so we were just playing from the old books not really thinking about new songs that are contained in the new book all that much. The only new song we really did that isn't in the old book was the mystery train which we've never done well and we got a lot closer to doing it well in this version of it and it songs like that that I really look forward to doing and getting better rat once the new book is in front of everyone's eyes. Therefore this week was pretty hot and pretty moving because many of the songs are not new songs are old classics even though they are Jerry Garcia band songs and/or easy to pick up on and latch onto without having to worry about reading new music out of a book. In the weeks to come I have a feeling things are going to be quite different so we might as well have enjoyed that freedom in that comfort that we had last week because there's a lot of new stuff coming and things are likely to be a little bumpy and Rocky for the next few weeks while was still under construction I'll call it for a new and improved Deadstein.