11/18/1997

William Weiss Interiors Studio - A freaky night with great music, bad food and a wide variety of kind and unkind guests.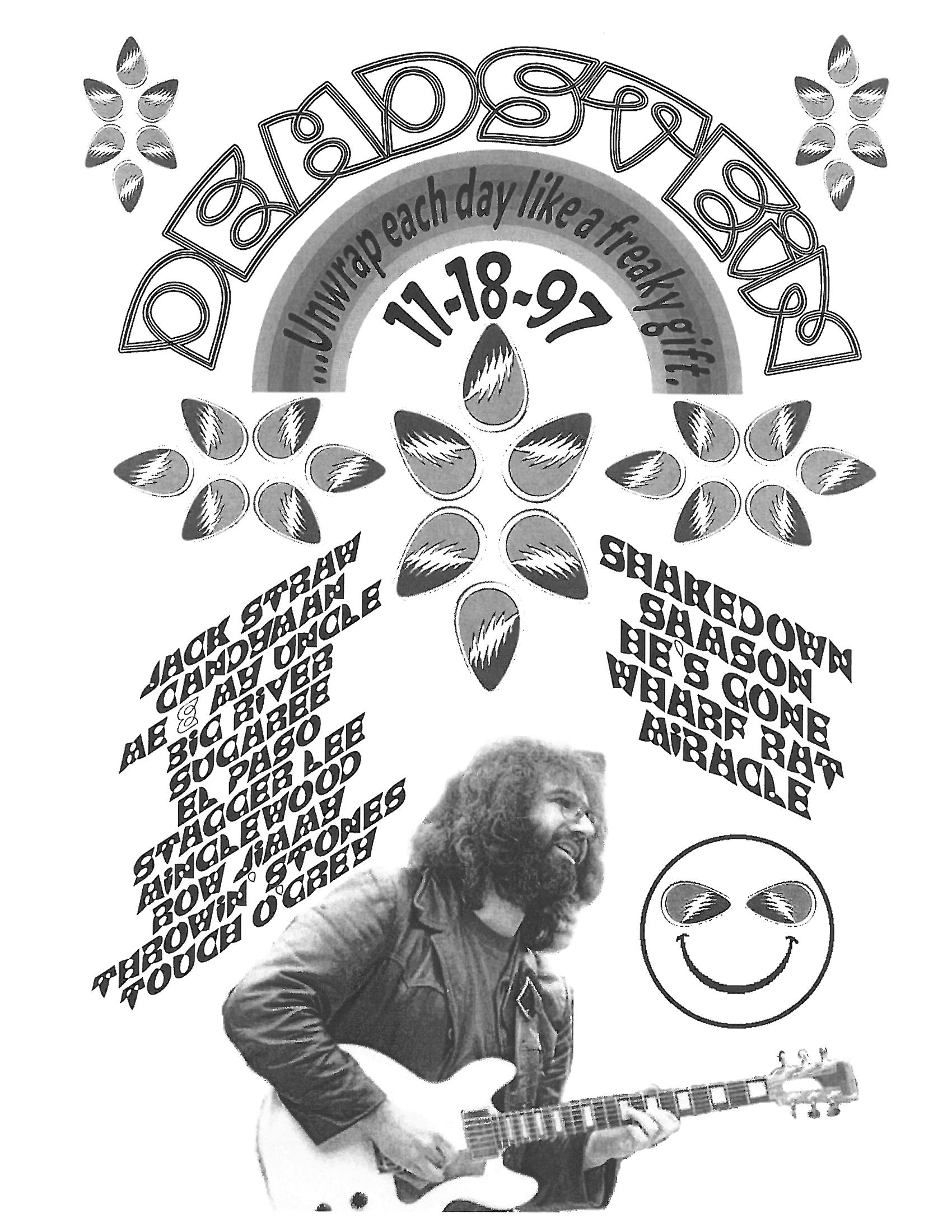 ---
First Set
Jack Straw
Candyman
Me & My Uncle
Big River
Sugaree
El Paso
Stagger Lee
Minglewood Blues
Music Never Stopped
Gomorrah

Second Set
Notes
Another great freaky night of the freakiest place on earth, or at least on 38th street. There was a lot of cool stuff going on and trying to remember it two night later may be difficult.
After the keying of Larry's car last he and I decided to park in lots. He parked on 40th which was open past 11:00. I on the other hand parked at the place on 38th that closes at 11 sharp. Thanks to Larry, I remembered to get my car at the end of halftime. It was a bummer but it was pretty quick and invigorating. The worst thing is that it's so easy to forget about it. It's going to happen some day.
The Freakboy had us all freaked up for the evening by supplying the prejam munch. Corned beef and pastrami from the Carnegie Deli is almost as good as it gets, and it was GOOD! There was talk of the prejam Gyro II as the main meal next week. Who knows maybe we can pull it off.
Just as most of us were nicely satisfied with our culturally enhanced sandwiches in comes the culturally challenged Spillboy arriving in a rail-car with with Commandant Klinks bohemian daughter wrapped around his tattooed forearm. She stated she had a problem with our Jewishness in a disturbing way but in the end, she seemed to like the three songs she and Kabalah Boy hung out for. Whatever happened, there was a very freaky thing going on in a very unkind way.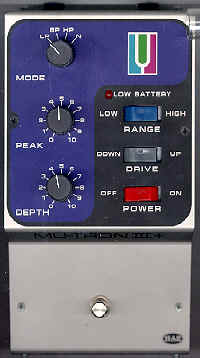 Larry M. had some type of kid duty to attend to and couldn't make it until the end of the first set. Coffee Boy Mitch was cool enough to sit in for the first half and provided a nice steadiness which we took advantage of. This coupled with the missing Brotman made for a more structured and open environment and it's amazing how we fill in all the open pours of the music dermas. Nooks and cranies are no match for Deadstein oleo.
I surprised Larry B. when I showed up with my new Mu-tron III+ Reissue that I picked up at the Philadelphia Guitar show. I assume this will be a great effect for me and I'll explain why. Like the Grateful Dead, this Mu-tron is sensitive, sophisticated and can't be fully enjoyed at first play. I can tell, I am going to have to get used to it, dial it in for what it does well and we will have a good time fluctuating together. The thing sounded real good in my bedroom but when it came to the jam I didn't do a good job of using it. That's good, because the RP6, which I could tell is just a cheap thrill, was a blessing when I first played it. The Mu-tron on the other hand has more character that needs to be polished to bring out its grain. It will add a new level of freakiness to the sound of Deadstein when used appropriately. I finally felt comfortable with the sound I got out of it during the Shakedown Street.
First Set Comments
The Me and My Uncle/Big River has an excellent beat and one of our better transitions. Kevin was amazed by it and I think that overrates it because there is much further to go. Transitions are one place where we still think and just don't play. When we stop thinking through our transitions and just play them they will become great.
Stagger Lee was tough for me. I had lot of problems remembering it.
Going against the list with the Music Never Stopped hurt us. It was one of the worst Musics in a long time.
Half Time Eating Comments
The Pronto Pizza we had for half time was the worst Deadstein food product we have ever ordered. We got a Sicilian pizza with half sausage and it was the worst pizza ever. The crust we totally soggy and gross, there was a lot of bad sauce and no cheese whatsoever except for a sprinkling of parmesan. It wasn't even pizza. It was almost similar to a Elio's frozen pizza but that would be doing do a disservice to Elio's. Talking about it just makes you mad. It's embarrassing for New York.
We had left over candy but not much food to speak of. Thanks to Johnny for those sandwiches before the jam. Without that we would have been lost.
Second Set Comments
It didn't seem as if we were destined to play a second set. Bloated and lethargic from an evening's worth of abuse and over indulgence left little hope of achieving Kevin's desires. We never did play Kevin's set list but we did manage to play two good big numbers inspired by Michael's presence, a guy who really can really appreciate a hot Dead tune. And you know, he can dance with the best of the freaks. And it doesn't get much freakier than that and isn't that what it is all about. Land of the Freak, home of the Freak. Not much more to say than Freak. It's pretty sad. The universal antidote to writer's block and life, Freak. You gotta love it, you gotta hate it, but you gotta play it to win.
We started the Shakedown about 5 minutes to 11:00 and ended the night just about as late as we have ever played during a normal jam. After the very elongated, flowing and diverse Shakedown Street Larry M. commented "Think of what might have been." He was right and it really makes you think and pay homage to the kindness we generate. Super powerful, complex, endearing, humanistic music made at the drop of a hat is inspiring. It has gotten me to play/practice more and buy new and improved stuff. This in turn makes me a better musician and makes us all better. The arrival of Scott's new drums will hopefully send him over the hump and to brighter pastures. This is all having a great impact on Deadstein. A spiraling evolution of freaky music which lifts you up, throws you for a loop a gently places you down from where you came. You can't beat that.
The Cassidy was even great. We played like we didn't want to stop. All the playing in the second set had a strong verde/pearl flavor to it.
Weather