9/1/2009

Carroll's 55th Street - We had Andy for two-thirds of the night, better than nothing.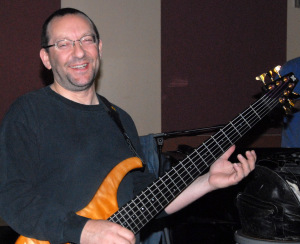 The audio files are provided in the following folder:
http://deadstein.com/audio/09-01-09
Tuesday night in the city and another concert at the club next door meant parking my new Honda Fit would be difficult.  That's right, the Dodge Dakota I was so psyched about last week is no longer and the moldy white Jetta Trek I've been driving since before Deadstein.com is also no longer.  Say good-bye to Jetta cam and hello to FitCam.  Different car, same trip if you know what I mean.

 

[youtube=http://www.youtube.com/watch?v=Dd-QI64mPmE] So I got there at 7:45 and we were scheduled to play with Andy, for the third week in a row, but this was going to be a one drummer evening.  Scott brought in his 6-7 shots of espresso and was alive and vibrant all the way through the finish line at midnight.  Andy stayed to 10:38 so we had him for a good 30 minutes extra, so that's always nice.  After he left we broke out the iPhone's random shuffler for a few Garband songs including a Gomorrah.  After that, 3 of Scott's friends came in from the show next door to experience some Hard Core-4.  This included an I'll Take a Melody, Dancing in the Street and and U.S. Blues to commemorate the passing of the summer.  I'm glad I got some photos of of these three including Wanna, Shy and I forget her name but I got a hug after she removed her shoes.  Wanna and Shy were living on the iPhones and seriously used them to communicate with others as opposed to me using mine to keep me entertained.  I assume the were texting each other since they couldn't hear themselves in the room. I'm glad I got a picture of them for posterity's sake.
On that note, we played with some nice dynamics this night and had some good moments.  We started slow but kept up the pace as the night wore on.  Another nice night of Deadstein music.  Oh, let's not forget that Scott Bayer showed his mug in the room for half a song and called Carol to let her listen in for a song or two. If you want to see what happened, I sat out a songs and listened to the rest of the guys play Waiting for a Miracle while I video taped it on my iPhone for posterity's sake. I love that Japanese rice wine. To hear what went on go to: http://www.deadstein.com/audio/09-01-09/ [youtubey=http://www.youtube.com/watch?v=S3UPGOQbN5w] or click below: