1/25/2005

Carroll's 55th Street - A new Andy Trister lightning bolt guitar joins our arsenal as Michael enjoys its sound with us.
---
The 8-12 jam at Carroll's. We had several guests including Trister's new lightning bolt guitar. Guest include Michael B. who showed up for the second set and gave us some good dancing, spinning and just general being pushed against the wall by the undying power of Deadstein. Bill Siegel also showed up for the last two songs, just so he could say hello to Michael.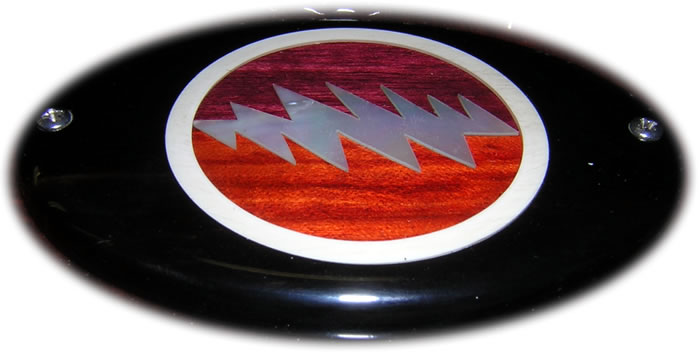 Highlight of the night was definitely Andy's new bolted axe which just arrived in the morning from Florida. It looked great and also sounded great and it sounded as if Andy had no problem getting the thing to work for him.
Music was pretty good for most of the night although we slipped a little toward the end with a few clunky moments. Clunky moments included the closing of Stranger which was no good at all. Stagger Lee had it's problems. Let's Spend the Night Together and Brokedown experienced some mental anguish as so did Big River as Rich admitted that he could not find the proper lyrics for Big River any where on the me and My Uncle page. Just another beautiful moment of "shit for brains" that occurs so easily at a Deadstein experience. Though the singing had it's lyrical difficulties during the Big River it was one of our better versions as the tempo was quick and steady. By the time Love Each Other rolled around Trister got his distorted sound down and we got some real authentic sounding moments during it, especially the 2nd verse of the lead. Most of the other songs that didn't have the clunker moniker placed on them were better than usual. Watchtower was as good as we have done it. Bucket was also pretty solid.
After a week of an over 12" blizzard, NYC was filled with snow but the weather was warmer than usual but flurries were coming down by the time I got home. Bill S and I avoided the nasty road block at the Lincoln Tunnel on the way home which is always a good move. The super bowl is set to feature the Eagles vs. the Patriots but the Pats look really good in their crushing of the 15 and 1 Steelers. Finally, Iraq is scheduled to hold it's election on this Sunday, 1/31/05 so hopefully America can get it's ass out of that G-d forsaken land. Johnny Carson also died this week.