7/15/2003

Smash Studios R - Mini T and the Teasettes sing a wide variety of songs with Deadstein in Smash Studios R.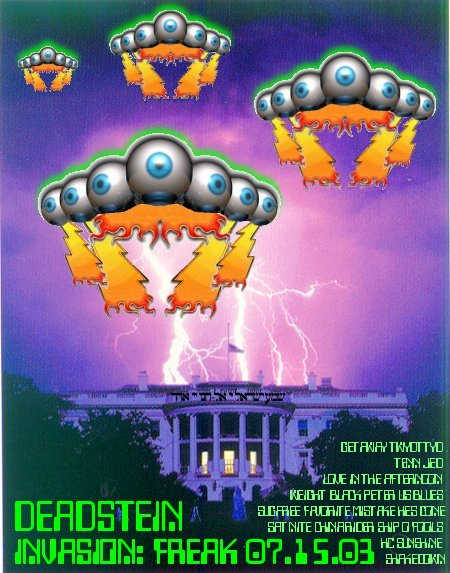 ---
Back to the whole band for this week and we had Mini T's daughter in as a guest as well as a friend of hers. I forgot her name if someone wants to write it in. Actually I never really heard it when we were introduced. Nevertheless, these were not just ordinary guests but active participants as we had a new version of Mini T and Teasettes. I think we played well last night and had a lot of fun with the fun that was going on. Having three women sing to Deadstein was a new experiece. It was a cross between a Jefferson Airplane concert a Muppets Show and a Britney Spears video taking place in a foggy valley between Kevin's ears. It will be a tough one to replicate. It almost reminds me a 21st century version of the famed midget that one graced us with is presence. The All Along the Watchtower was especially special to me as we played it with out finching an eyelash. Mini T. supervised as the proud mother she obviously is.

There was lots of traffic along the west side last night cause Andy and I to arrive around 7:30. This of course meant no Taco Fresco for me but I had to eat on the way devouring a large Taco Bell so called meal. Mitch also short for time was force to eat a couple of rats on the way in. I didn't have the will power to resist the Gray's Papaya on the way home asnd found myself picking sauerkraut out of my seat all morning long.