1/12/1999

William Weiss Interiors Studio - Larry B. still away in fantasy land as we get a solid night in.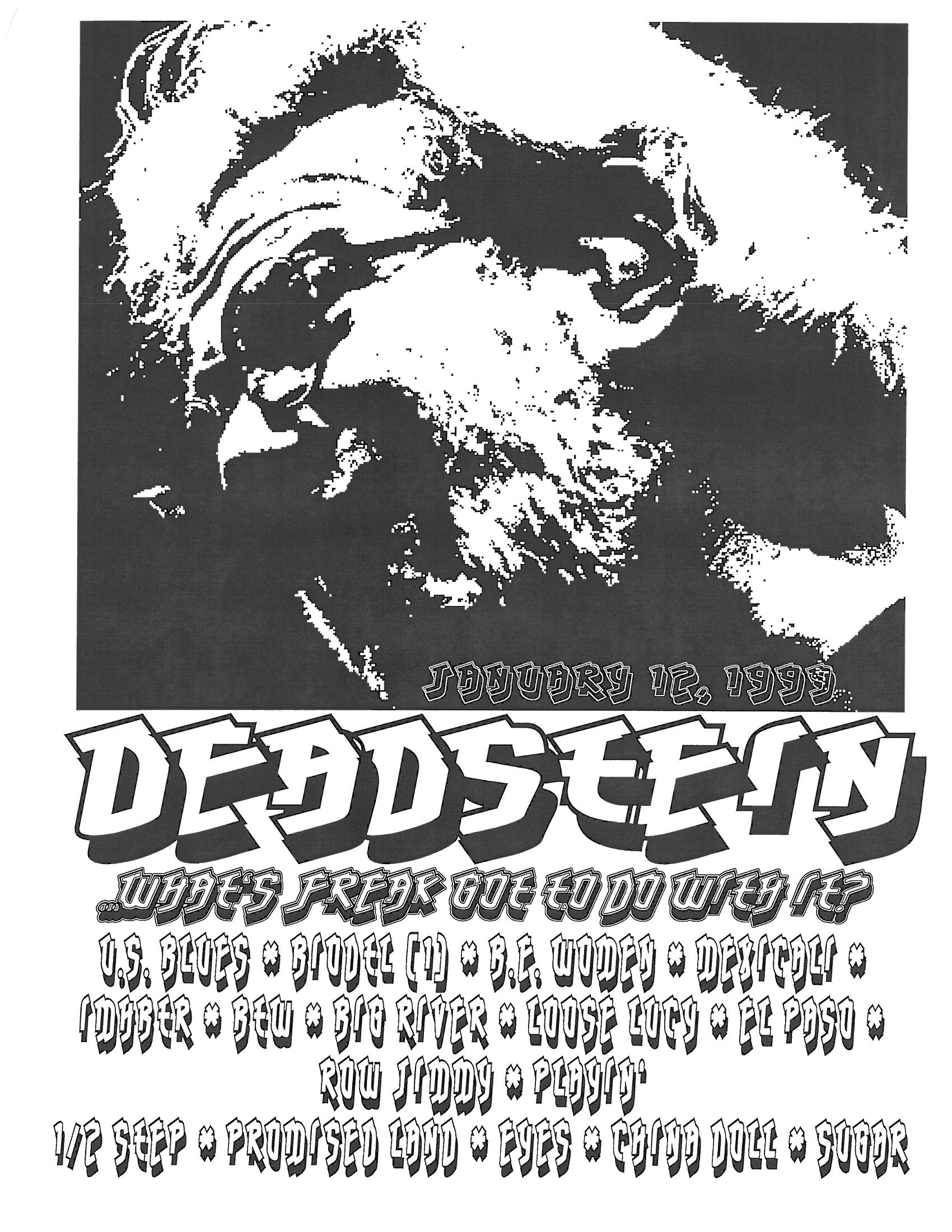 No Larry B. as he is enjoying the Sunshine State. This left Andy, Dave and I to do most of the singing and except for a few moments where Johnny was chased out of the room by me, we got by. Doing the BIODTL on a one count was too little for me to handle so we went for six, which didn't make much of a difference.
The basement stunk of a petroleum based paint thinner which couldn't help any of us at all. Kevin suggested that we start sniffing Benzene, I would just like that to be my choice.
Music was good, food was fare and usual, what else could food be. Weather outside was surprising warm, Scott forgot to lower the gate. We had Tick-Tock Dinner and we are all awaiting the re-arrival of our good friends. Scott popped a bottle of vino and there was potential of another Dave related Pink Floyd fight. Luckily we nipped that one in the bud. Andy seemed psyched to strum away as he serenaded us with the new Cheryl Crow Favorite mistake. First time she has been mentioned on the Deadstein home page. J-E-T-S, Jets, Jets Jets were a hot topic of the night.
We finished with the Sugar Mag without a Sunshine Daydream and we were promised by Kevin that we will start with it next week. Let's see if we can get that type of continuity thing going for next week.
---
Name: Larry G.
Date: 1/13/99
Time: 7:24:07 PM

Comments
Great night, lots of fun. I've had better food.
---
Name: scott
Date: 1/13/99
Time: 9:49:38 PM

Comments
I can't believe I forgot to close the gate!!!!!!!!! We could have all been robbed, tied up, and put in the benzine chamber to sufficate. Theres something about that Brown eyed Women that I just Love playing. Speaking of "playing" the 2nd set playin' was a complete space that I totally dug. Where's L.B'S Post from the sunshine state? Next week we can try "Sunrise Deli" located at 1441 B'way with an ent. on 7th ave. I'll try and p/u a menu.They also will make a burger with a cheese omlette on top. Lets keep the new tune selection / Versatility on top of the list for 1999.
---
Name: Hutch
Date: 1/14/99
Time: 12:33:58 PM

Comments
Need a Deadstein fix bad...fading...see Jerry and Gindorf together everywhere...need benzene...help
---
Name: KEVIN
Date: 1/14/99
Time: 5:33:32 PM

Comments
I didn't think I, personally, had a good week last week. On the other hand, this week, was good for me AND Deadstein. The first couple of tunes were incredibly tight and played with what I perceived as an acute clear-headedness (possibly due to the toxic chemicals). No wonder TheGind is a hazardous waste guru, that stuff is good for you. We had a fabulous BTW, unreal solo in the outro. We bad. Is it just me or does Trister sing like Jerry too? Looking forward to the return of LarryB, I think TheGind's vocals might have warped the graphite neck on my Modulus (just kidding) ((graphite doesn't warp)). No real participation from Freakboy, except the food order. He did well, except for Brotman's coffee. I understand the consensus was unfavorable, but my order worked. And how!! Cheesy, meaty, hammy and on a great bun. (it was eggy too.) We should see a great improvement from Freakboy on the "stamina" front. His new exercise regimen promises to provide him (and us) with the conditioning he desperately needs in order to put on the Jam Nite show we deserve.
---
Name: Larry B from Florida
Date: 1/15/99
Time: 11:00:32 AM

Comments
Greetings from the3 Sunshine State where the air is warm and the breezes are light. My post was delayed because there is no longer any internet access in the Magic Kingdom, I guess it's not so new anymore. I really miss you guys, and I really want to hear Trister sing. I went out to see Rich Freedman's band Crazy Fingers last night, unfortunately he was out sick with the flu, and he was clearly missed thougfh they did a nice Sunshine>China>Rider to open. See you guys on Tuesday, Bernie's email is brlipnick@aol.com until Monday morning.
---
Name: dave
Date: 1/18/99
Time: 2:07:08 AM

Comments
ok, here it is..approximately one year after i rejoined the band.....i've been waiting patiently but can wait no longer, i have a request....so without further adieu i give you......"FREAK MAGNET", I HAVE TAKEN THE TIME TO WRITE IT IN WHAT I BELIEVE TO BE THE PROPER GINDORFIAN MUSICAL SCHEMATICS THAT WE LOVE SO MUCH, I'VE FAXED IT TO KEVIN.....thank you very much your humble drumming servant