8/17/1999

William Weiss Interiors Studio - No Kevin and virtually no Dead songs.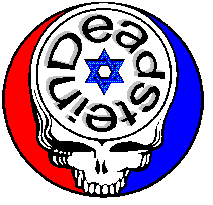 Well it was certainly one of the most different nights of Deadstein that we have had since we have started playing because of our lack of Grateful Dead songs. We have never strayed as much as we did that night. Kevin couldn't make it because he was tending to her recent glaucoma surgery. Kevin doesn;'t have glaucoma! With that said both Dave and I played bass throughout the evening, mostly Dave. With all the weird, downloaded songs, thanks to Larry B, and a late supper,we never made it to the second set but the night was fulfilling anyway. Andy girlfriend was probably the only guest of the night. Everyone else was there. Her and Andy drove up from LBI, on the Jersey Shore, to make the jam. Another big effort by the "T" man. Larry sang a great No Woman No Cry.
On the Web front www.Deadstein.com is up and running. The main purpose is to get the domain name as well as space to host real audio files. We got up to 300MB to fill so enjoy the tunes.