10/12/1999

William Weiss Interiors Studio - Many return from treks unheard of while Trister's still on his.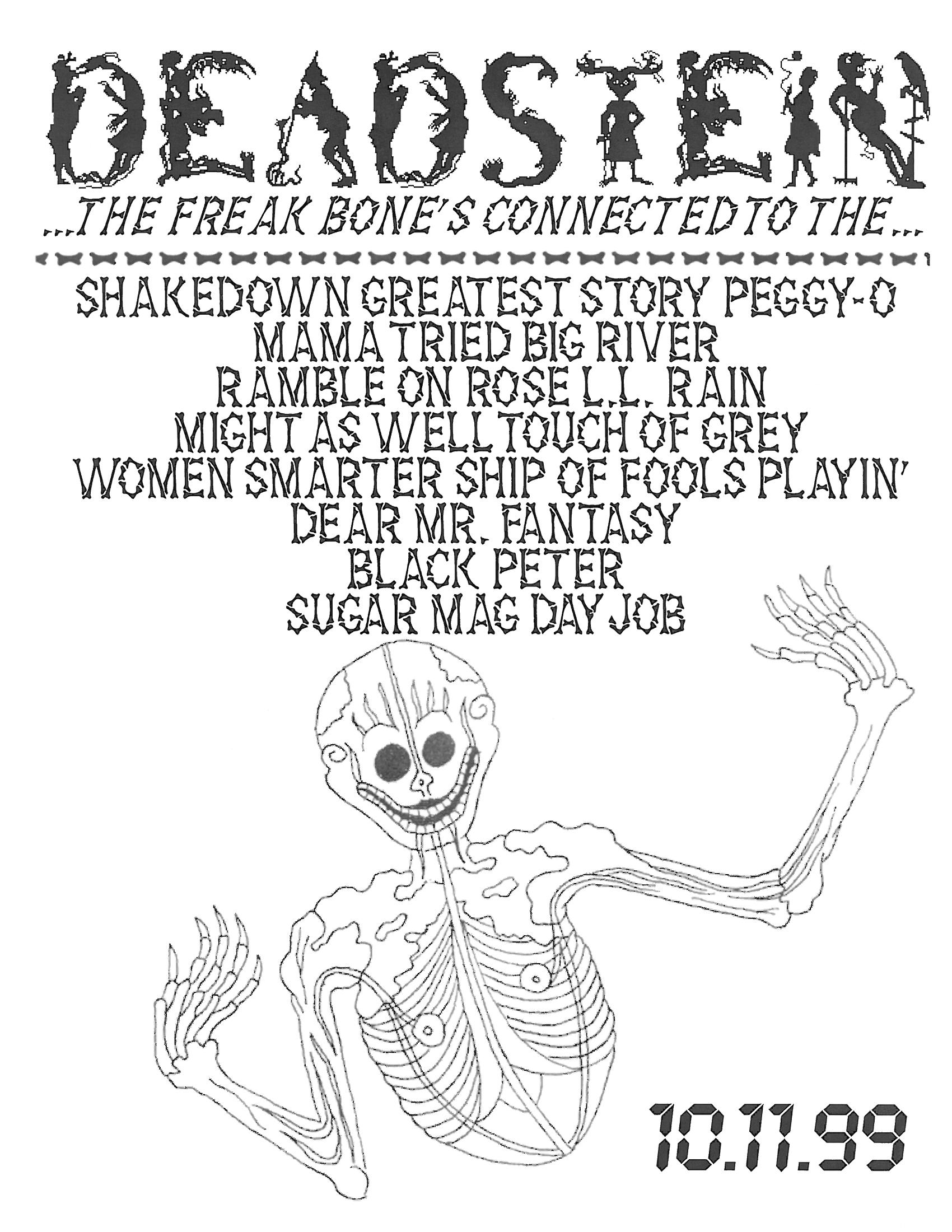 After a week with no jam, Scott and Larry coming off of their glorified triumph of Mt. Dead, friends coming in to see us, the return of the Freak you would expect Deadstein to give it best. Well there were times that were good but it wasn't our best. There was just a lot going on and sometimes the grooves suffered. Nevertheless, it's better than being anywhere else. The Pizza was great!!!
We had a few guests including Michael and his Van Morrison head friend, my friend Bill the Rug guy. The big news was the return of the new and cleaner Freak. Rich was back, Larry and Scott had stories of backstage and more. Kevin and Dave didn't have anything new. Trister was still away as he must really be Jonesing to play his new improve Twin. It's a beaute.
Music was good at times and floundered a bit. Larry had trouble taking some of the singing during the shocking beginning of Brokedown and slammed the meters down. You can't blame him on that one. Kevin had a great intro to the Greatest Story. He really shines during that one.
Mets lost Game 1 against Atlanta in the NLCS, and recently lost game 2. It's not looking good. Rice balls, dried freak, salad, veal parm, bread and butter and a load of bad Dead songs were the fare for the evening. It was a beautiful day and night.
Until next Tuesday, same freak time, same freak channel. Don't forget the Forums!
.
---
Name: Mr. Jones
Date: 10/14/99
Time: 9:25:41 AM

Comments
Just a cyber-hello to all. I miss you guys; and Larry is definately right about me jonesing. Did anyone test drive the new improved twin? I'm dying to know how it sounds.....
---
Name: Super Freaky Straight Guy
Date: 10/14/99
Time: 10:29:32 AM

Comments
It was great to be back with the crew. After quite a long hiatus, hanging with the boys felt real good. The stories of the west coast were entertaining. Scotty overcame illness with positive energy. LLB got all that he was looking for. Next week is my birthday jam so get into me. I hope that AT will be there. I missed his B-day jam several weeks back. I know I don't deserve his presence, yet I hope nonetheless. In G-d we Trist. Bring your freak flags and let the fly.
Bye.
---
Name: Larry G.
Date: 10/14/99
Time: 11:51:40 AM

Comments
I test drove Andy's Twin at home the day it and my Twin came home from the shop and let me tell you these are not identical Twins. In response to why they are so different the amp guy, Mark Norwine wrote back to me:
How can 2 "identical" amps sound different? biggest issues are tubes & speakers. most folks consider the utah speakers you (Larry) have to be ho-hum at best [less generous folks would say that they suck outright]. Personally, i think they have their "own" sound....like it or leave it.
tubes. andy has wonderful power tubes, you (Larry) have a smattering of chinese & russian tubes. yes, they matched [coincidence], but that doens't mean they'll sound the same as andy's. again, i don't subscribe to the "NOS=great; chinese & russian = sucko" ideal....again, it's a different sound.
right now, i use svetlana 6L6 tubes...i think they're the best on the market today. a quad is around $90 your cost. i can get NOS [new-old stock] 6L6's, but they're expensive...a matched quad will run you close to $300.
All of this notwithstanding, i could take both amps, put in identical speakers & new svet tubes, and they'd STILL sound different.... why? simple: individual component tollerances on the more than 100 internal components! i don't use [as an example] 150 ohm resistors.....i use 150 ohm +/- 10% resistors. add up all of these tollerances and different "identical" amps will sound different. but your biggest differences are speakers & tubes.
Mark Norwine of Carlson Amp
In any case, Andy's amp sounded great in my house, thoug the volume was never boosted above 3 though. It was definately warm, rich, full and solid, I wish mine sounded so good. Mine is much crisper, cleaner and tighter but without nearly as much character.
I assume I'll be chnaging tubes then speakers in a timed, coordinated fashion so I can get the snse of what is controller what part of my sound. I look forward to that process over the upcoming months. It's not that my Twin isn't good, it sound very goods, its just that Andy's was great in comparison.
When Andy checks out his Twin on Tuesday beware a bag of the old, cruddy parts that are in the back, so take them out or risk a fire. In addition, the RCA jack to turn the Vibrato is in it's place, so take it out so you can hear what it sounds like without the Vibrato. In addition, get yourself a piece of twine or wire so you don't lose it. You can also buy a switch for around $30.00. www.partssmart.com would sell that sort of thing. They sell lots of Twin Parts.
You are a lucky man to have such a good Twin Mr. Trister. And I always thought it was your talent. Well, maybe it is.
---
Name: dave s
Date: 10/15/99
Time: 3:18:31 PM

Comments
hey i heard the next lavala cd will be called "DICK'S DEAD"
---
Name: Larry G.
Date: 10/15/99
Time: 3:42:29 PM

Comments
You have that backwards Dave, it's really supposed to be called GRATEFUL DICK.
---
Name: Trister
Date: 10/15/99
Time: 5:02:37 PM

Comments
Q: What do you get when you play a country song backwards? A: Your girlfriend back, your job back and you stop drinking.
---
Name: dave s
Date: 10/15/99
Time: 9:50:07 PM

Comments
..everybody's gettin' into the act.
---
Name: dave s
Date: 10/17/99
Time: 11:30:28 PM

Comments
lets go mets...lets play thursday !!!!
---
Name: larry brent
Date: 10/17/99
Time: 11:34:47 PM

Comments
anyone wanna consider a thursday this week so we can watch game 6 of the NLCS ??
---
Name: Brotpen
Date: 10/18/99
Time: 1:44:07 AM

Comments
Thursday might be a little better than Tuesday for me, tnough on either night I could probably only stay for the 1st set, and then pop back to work for a couple more hours.
---
Name: scott
Date: 10/18/99
Time: 7:54:00 AM

Comments
tuesday or thursday this week is ok for me. Next week the only day is TUESDAY 10/26. How about those AMAZING METS.......
---
Name: Trister
Date: 10/18/99
Time: 10:00:50 AM

Comments
Tues or Thurs are OK for me this week. Next week I'll be out of town till Wed eve so if we can't go thurs 10/28 looks like I'll be taking another week off. By the sound of Scotty's posting that will be the deal.
---
Name: dave s
Date: 10/18/99
Time: 10:40:40 AM

Comments
T-H-U-R....METS METS METS
---
Name: larry brent
Date: 10/18/99
Time: 12:38:31 PM

Comments
sorry guys, thursday is no good. Let's go tuesday
---
Name: Trister
Date: 10/18/99
Time: 1:14:53 PM

Comments
Is that tues this week or next?
---
Name: scott
Date: 10/18/99
Time: 2:37:03 PM

Comments
tuesday this week AND next week. is it tuesday yet?
---
Name: dave s
Date: 10/18/99
Time: 6:04:34 PM

Comments
you guys are crazy.....we should play on thursday and watch the met game on tuesday
---
Name: Brotpen
Date: 10/19/99
Time: 5:12:47 AM

Comments
It looks like I'll be stuck at work Tuesday night, regardless. At least there's a TV here with marginal reception. See you next week.
---
Name: Well it's Tues . My stuff is in my car; can someone tell me if I should come to WWI this evening?
Date: 10/19/99
Time: 9:33:40 AM

Comments
---
Name: scott
Date: 10/19/99
Time: 11:28:49 AM

Comments
WE ARE JAMMING TONIGHT. we will also have a seperate t.v. room for your viewing pleasure.