4/24/2001

Caroll's 41st Street - Freaky scoppy night at Carroll's where the air was thick.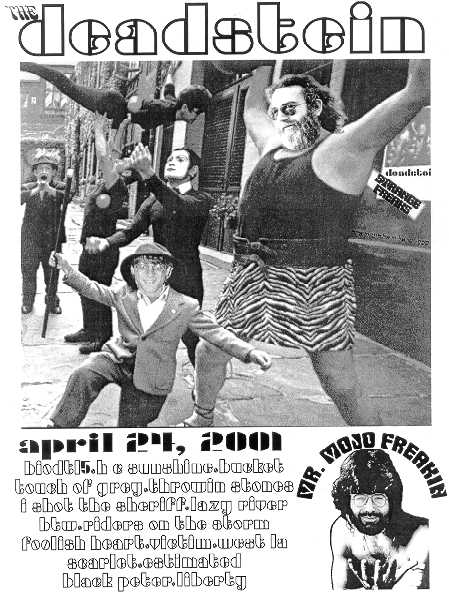 Except for Larry B., the whole band was there at Carroll's. In addition to Johnny and Kevin, we had a spinning howling night of Michael B. and his entourage. It included Dan, Dan the Van man as well as several others. They seemed to dig us quite a bit and we gave it to them big, filled with mistakes but a good night nevertheless. Andy lugged in his Twin and it was well worth it as he let his hair down. Scott snag some cool Allman Brothers song and we got scoppy with a spaced out Riders on the Storm.

After coming back into that room after getting a soda was an experience. The air was thick. It was a pretty hot day, the music was hot, the amps were hot and everything was just smoking. The air in the room the thick, musty, aromatic air. I don't know what it was and I'm not sure I liked it, but it was it's own element. There was a lot of good music but we were flubbing time all night, missing cues, structure, etc. but it wasn't bothersome.

Till next Thursday.