8/2/2001

Caroll's 41st Street - Deadstein fails to field a full band but Dennis surprises us as he shows up a Caroll's.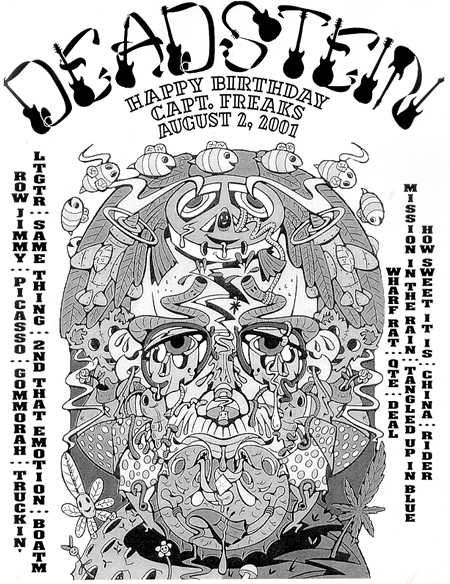 ---
It was as limited of a setup as we have had for years. Following the Banjofest we didn't have our act together to complete the move back to PSEUDO. We got a Carolls room and had a good time, making sure Deadstein continued without missing a beat. Several people couldn't make it and PSEUDO wasn't quite ready for us. It was to be a classic Larry, Larry, Kevin Dave and Rich jam but Larry's weeks of Phil took his toll and he was backed up in the chair and bailed at around 4:00.

It was to be a jam where I was the only guitarist, a lot of pressure but I was looking forward to the challenge. It was nice considering that Kevin selected many JGB songs to commemorate Jerry's birthday. I was able to enjoy playing songs like How Sweet It Is and Gomorrah without anyone there to bother me. It was lots of fun

Somehow we were surviving, the four of us, jamming away and accomplishing a few things. As we are finishing the I Know You Rider, I turn around and see to my surprise, Dennis. What an unbelievable coincidence. He shows up on a night where there is a shortage of guitarists. It was great to see and play with him. Cough and all.
Equipment Listing
Larry B. - Missing
Andy T. - Missing
Larry G - '96 Roland Ready Strat Line 6 Delay, Jekyl and Hyde, AKG D790. microphone, Jazz Chorus
Tommy Banjo - missing
Kevin - Modulus Bass< ? Amp head and cabinets
Rich - Piano, SM58 Mic.
Dave - Drums, SM58 Microphone
Scott - missing
Dennis - Guitar with light-up frets according to scale, Jazz Chorus
PA - Mackie amplified mixer and EV speakers
Recording - None