10/28/2014

Carroll's 55th Street - A failed 14-track recording but a successful 8-track recording.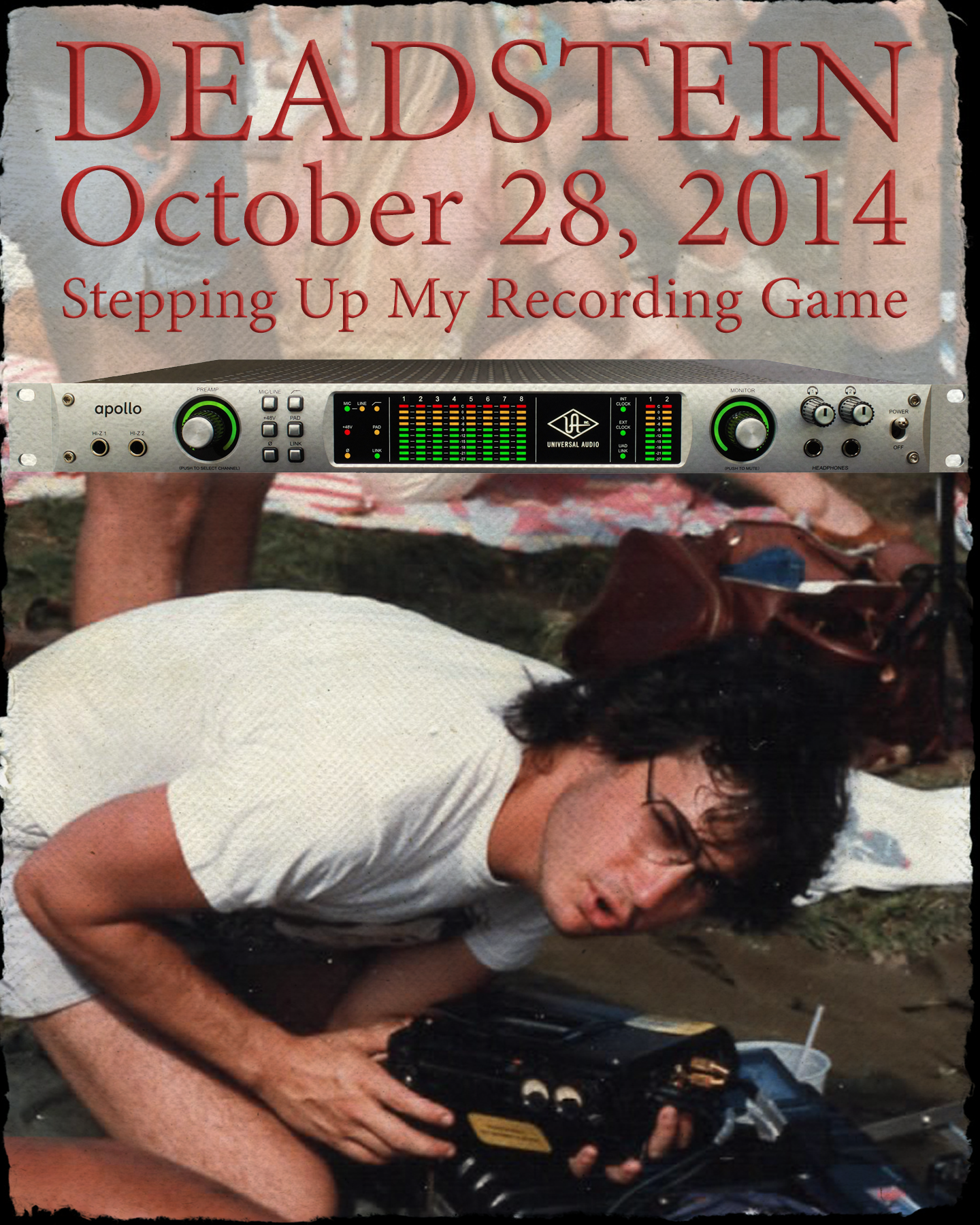 After a fairly successful test run using my new Universal audio Apollo Interface with my Macbook Pro from the October 9, 2014 jam, I decided to take out the set up for a big night of recording with two drummers in the whole kit and caboodle. The Ying– Yang of it all was that I left the evening with a pretty good sounding recording, but had many trials and tribulations along the way.

I was hoping to use my second set of eight preamps from my Behringer AADA8000 AD/DA rackmount unit but, that thing never synced up with my Apollo. Listening to it in my headphones I would hear clicks and pops in all the channels indicating something was just out of digital sync. I abandoned that whole unit and instead, just recorded using eight tracks. That meant I was able to put a microphone on each guitar amplifier, the piano, one on each drum kit, a direct from Kevin's bass, and finally two channels coming out of the mixing board to capture the vocals of Rich and Scott. At home I would overdub my vocals thereby it was really a nine track recording. So the bummer of it all was that I was limited to 8 tracks, and after trying the Behringer unit at home in an attempt to rectify the syncing problem I had no luck and at this point I am forging ahead in my mind only using eight tracks, or until I invest in a better unit or figure out the issue. After listening to the five members of Deadstein warming up on a Big Railroad Blues and the Hang on Sloopy while I was setting levels and determining how to get the recording working, I finally came to the realization that I just needed to simplify and get down to eight tracks only. Once I came to that final conclusion I just moved ahead thinking the eight tracks was going to be fine and that I should do the best that I could so I decided to focus on playing the music. That is the true reason of going to the jam. With that I decided to open something easy for me since I was all flustered and frazzled compared to the rest of the band I was just frustrated by on the time I was using trying to configure the taping rig. The Sugaree was a good choice as it got us off on the right foot and the tape proves that it sounded pretty good, pretty relaxed and is a pretty good effort on our bands park. Likewise I went into the When I Paint My Masterpiece right afterwards also and then attempt to just get comfortable with playing music versus engineering it. It also turned out to be a pretty good number. For the Desolation Row I made the worst mistake a guy recording music could ever make which is to forget to hit the record button. I realized that after the first couple of verses and then hit the record button. I ended up melding the beginning of the song from Rich's 2- track MP3 recording with the 8 tracks that I had. It's actually pretty cool transition so I kind of like that effect. The same thing happened at the beginning of Going Down the Road. And if you listen the Big Railroad Blues in the Hang on Sloopy, they are definitely not multitrack recordings. We then proceeded to end the shortened first set with a classic Loser, Big River, Deal to close. Of course it wasn't perfect but there were lots of good moments throughout the three songs in there and it's good stuff to listen to so enjoy. The Big River had a real relaxed vibe to it that wasn't a sluggish so long but rather a more relaxed comfortable feel. For the second set we wanted to open with the Shakedown Street but seeing that Alan was still on the phone we decided to open up with the It Takes a Lot to Laugh, It Takes a Train to Cry. Afterwards, we then went into the planned Shakedown Street. Once again I forgot to hit record at the beginning of the song, but I stopped us and we started over. It was too bad because the beginning of the first one was a really cool sounding beginning, but in the end the one that we captured and played through was pretty darn good except for the ending jam which was a little too busy. By the time Sampson and Delilah rolled around Scott was fading quickly and it was turning into a one-drum evening. Even with two drums Samson and Delilah is a big challenge for us but we were able to slog through this one with some respectable moments attached to it. Rich call for the Jack Straw to follow to give us something that we do pretty well and keeps as grounded in a solidifying song structure. It's funny, we play a lot of blues but we don't do it well and the Big Boss Man was one that I thought we did pretty well especially for that time of the night I like to sound of it. By the time the end of the night rolled around and realizing Scott was out for the count I moved his extra microphone that was on his drum kit to Lee's kick drum and moved the general drum microphone kind of almost underneath Lee's drum kit to try to capture it better. It worked, but it wasn't significant compared to what I was capturing earlier in the evening, so that makes me feel confident that I could survive with one microphone on each drum kit. For the beginning of the night I had the Neumann omni mic on Lee's kit and I had the Sennheiser 421 on Scott's kit and after listening to it, I really liked the sound of the dynamic microphone, the Sennheiser over the condenser omni microphone which was the Neumann and so moving forward, I think I'm going to use dynamic microphones on the two drum kits. I'll probably use the Sennheiser 421 and an SM 57 or may just use to SM 57s and leave the Sennheiser for one of the guitar amplifiers. But back to the music, playing the wheel actually move forward and felt pretty good not one we do often and of course with our vocal capabilities, it's not one that people want to listen to but we still play it and you got to keep moving forward as the song says which is what we did when I sprinted into the All Along the Watchtower. I tried to get into that one hard so Kevin wouldn't have time to get bummed about it as he hates that song for some reason, but it was done quickly painlessly and without any dragging so in that respect I think the quick in and out of it proved not to be a burden upon Kevins quickly failing mental state at that point of the evening. So what little time remaining that we had together we could play a couple of songs as Kevin and Lee were holding on for dear life at that time. I decided for the Going Down the Road into a Not Fadeaway and they were marginal. So with the "bop-bop" to close the Not Fade Away another week of Deadstein was in the books. I learned a lot this week on what to do to record us as well as want not to do and in the end I feel pretty good about moving forward with the 8 tracks. It certainly makes things quicker and simpler in the set up, takedown and the weight of what I need to carry into the jam, So we'll have to see what that brings us and with that I say "Freak Out!"