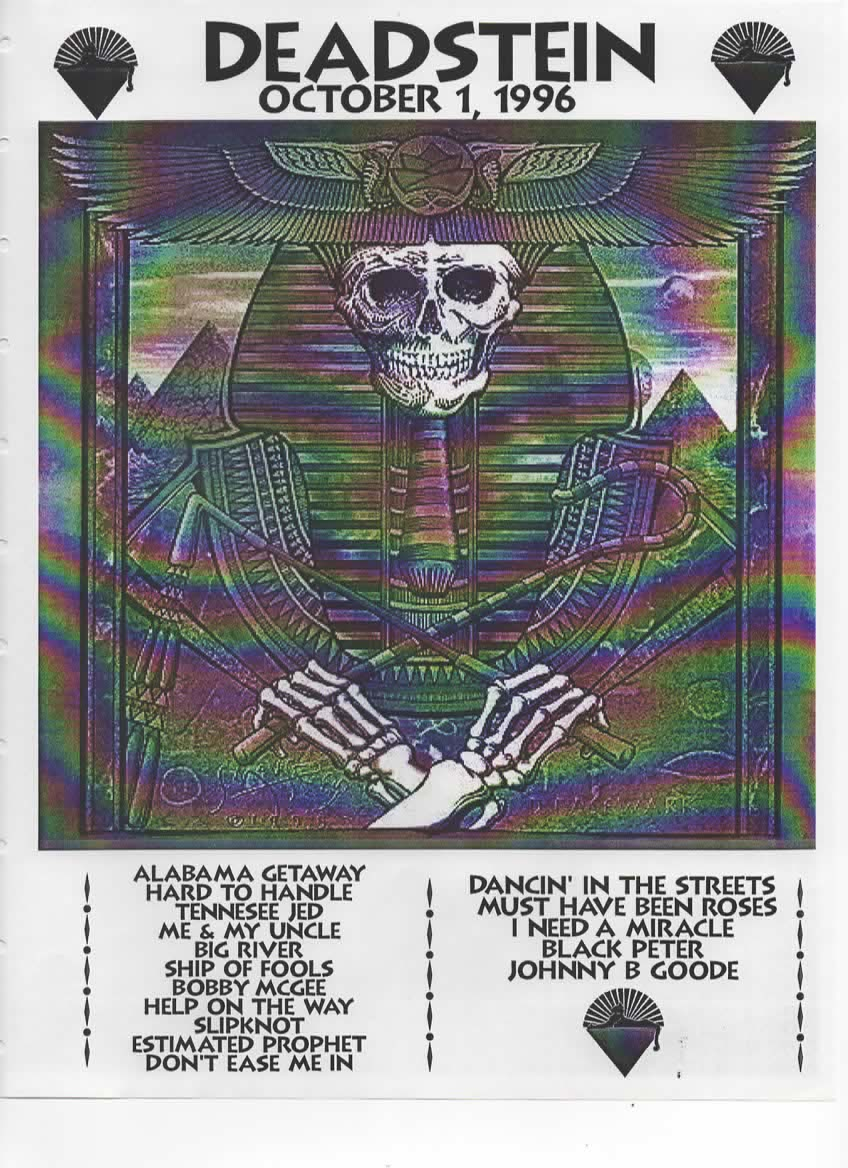 First Set

Second Set

Alabama Getaway
Hard to Handle
Tennessee Jed
Me and My Uncle ->
Big River
Ship of Fools
Me and Bobby McGee
Help on the Way->
Slipknot!
Estimated Prophet->
Don't Ease Me In

Let it Grow

Dancin' in the Streets
It Must Have Been the Roses
I Need a Miracle->
Black Peter
Johnny B. Goode

Knockin' on Heaven's Door
The theme of the night occurred when Larry M. stated to Kevie that he was cut off and he unplugged Kevie for the rear eight speakers. A bold move, and Kevie was a true mench about it and gave it a try. His words were something like, "Just so you can't say I was a dick about it, I'll try it but you won't like it." Fortunately, everyone seemed to like it.
It will be real interesting to hear Kevie's interpretation of the move, because it really does clip his wings quite a bit but, a different feel was certainly in the room. It was much more open, nicer, relaxed and not so loud, even though I do have splitting headache as I write this stupid thing at 12:30 in the morning when I have to get up at 7:00. What am I and Idiot? I must be. Ahhhh! In any case, I'm sure Kevie's change in sound is going to be fodder for the wordy.
Jonathan showed up for maybe the first two songs and left beneath the breeze, underneath the weather, preparing for the storm that was to hit Cone. That will teach him not to pledge allegiance to Deadstein but to the Yankees. They would understand and would respond to and respect that.
Dennis was missing for the room and except for Menaker's Jonathan, a guest wasn't to be found,. Brotman only made it through he first set.
Remember, we play on Monday next week.
The Getaway and Hard to Handle were rough around the edges but held there own. It wasn't until the Jed where the night turned. It was "sweet." By the trird verse of the Uncle, we kicked the music into high gear. It was crisply played, not so sweet but Uncle/River isn't supposed to be. The transition into the River was just like a Swiss watch and the River sustained itself well. The Ship of Fools and Bobby McGee really accentuated the sweetness of the evening. Kevie thought we would be in trouble during a Help on the Way with him only coming out of 7 speakers. Kevie played extra quietly, probably with the thought that he'll show us guys, but we showed him. We all quieted down to his level which provided him the same dominance he is used to but with less. It worked out well, a challenge to our own restrain and self-control. Estimated remained in comfortable beat throughout into a very forced Don't Ease Me In. With a Sicilian pie still cooking, we endeavored into an extra Let it Grow. It worked and had a very interesting ending to close the set on a spacey theme.
Dancin' in the Streets was really nice, not powerful but very welled played. Gindoff did his impression of Bruce Kosslett, of the Jets, in orchestrating Deadstein's coming back into the chorus to end the song. Must Have been the Roses was beautiful, Brent better have liked it. The next three songs were not recorded unfortunately. The Miracle, from a dead start, brought Deadstein up after the Roses and lead us right back down, way down, as we went into the Peter. It got lusciously sweet during it, playing a Black Peter the way it is supposed to be with care and compassion. The Johnny B. Goode was a great closer because it reminded you of the opener as you were playing it. tying the evening into a complete bow. With time to spare, a very mellow Knockin' on Heaven's Door was indicative of the music played for the evening. Although quiet and contained, the music was not boring.