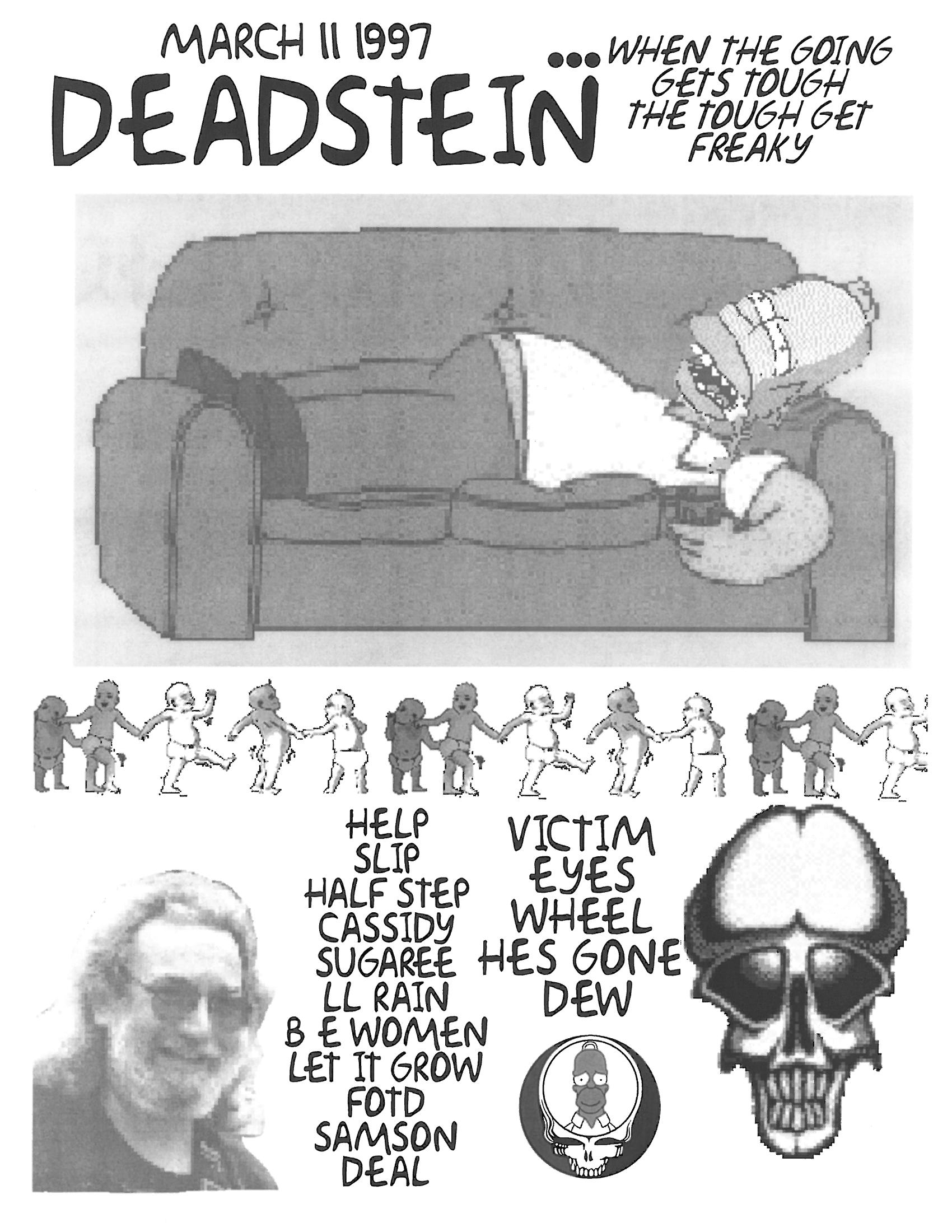 First Set
Help on the Way->
Slipknot
Mississippi Halfstep
Cassidy
Sugaree
Looks Like Rain
Brown-Eyed Women
Let it Grow
Friend of the Devil
Samson & Delilah

Second Set
Eyes of the World->
The Wheel->
He's Gone
Morning Dew


Next Jam: Tuesday, March 18, 1997
There was some sort of Jam on March 4th that was not posted because I wasn't there due to my MCMUA meeting. Just to let you all know I have Tuesday meeting on the following dates: 4/8/97, 5/6/97, 6/10/97, 7/8/97, 8/5/97, 9/9/97, 10/7/97, 12/9/97, 1/6/98, 2/3/98. Please plan to play on Thursdays during these days. Please note, my November meeting is not listed here because we meeting on Wednesday that month. It the work hell that I live. I beg you indulgence and planning. Thanks.
Scott was at an Allman Brothers Concert and gave up his seat for a substitute. In sat Coffee Boy himself, Mitch. I man who knows his coffee and is proud of it. Remember store it in a cool dark play and make sure it is well sealed so it stays fresh. Keep your coffee in the same place where you keep your rice. Do you keep your rice in the refrigerator? I didn't think so. Mitch showed up prior to the Cassidy. Before that Larry M. was the solo drummer boy.
There were no guests in the room. Jonathan and Rich were there for the entire time.
Dennis appeared only late in the evening, I don't know if he was downstairs the whole time or just came home late.
Larry M. will be in Florida for next week's jam so we will need a new drummer.
Something tells me we will be eating 2nd Avenue deli next week.
I had my guitar chirping with a little extra dose of reverb which gave me a little more '77 feel.

We crashed and burned on the transition into the Halfstep
Cassidy was very strong and powerful. A slow ascending catharsis toward the whip which proved to be worth the climb.
Looks Like Rain was well played and had a very relaxed feel to it.
Brown-Eyed bursted along with a fast moving tempo that never gave up. It was a lot of fun to play along with.
Let it Grow was hot. The lead was good, the first movement of the jam was long and interesting with out turning in the proverbial Artie Johnson "Stupid.". Second and third movements were also whaling. It is amazing how we do give these songs their due respect and play them for their fullest and enjoy all the fun out of them that we can.
Devil really sounded good. I like the tempo and I like the transitions between the three parts in the lead.
Samson was pretty strong but we did mess up the format of the ending without messing up the sound. The official way to do the ending out the the lead is:

"If I had my way. If I had my way. If I had my way. I would tear this old building down." repeat that and end it with one extra "I would tear this old building down" into the drum thing into one last chorus of "If I have my way . . ."
I think there might have been a Deal to be played according to the set list.
Johnny really hooked us up with the Flourent burgers. fries mashed potatoes and pecan pie. He's te best at it Jerry, the Best! Mmmm that was good stuff. They did forget the pickles though.
Larry and Larry did the deli run for additional junkie desserts and drinks as listed below.
Dr. Peppers, Cokes I think I saw a Diet Sunkist but no Snapples
The only song we didn't play that was on Kevy's list was a Victim which was to start the first set
Eyes felt good I played some newly discovered high up on the neck chords that made this eyes for me new and different. It was easy also, I'm sure I'll be doing more of it in the future.
Wheel was nothing special but nothing wrong either.
He's gone was sweet
ad the Dew was excellent though just before the end of the first lead where Kevy played some weird sounding things, that weren't necessarily wrong but the were so God foresakenly different. Larry M. and I noticed it at the same time and I just could recover after it. Iwas cracking up for the rest of the song. What can I tell ya. It was just funny. But the first lead was great so I don't mind. I just was picturing Kevin's right eye bursting open in a stream of fluid and I was laughing through the second lead. You gotta love Deadstein.

It was pretty comfortable in the room