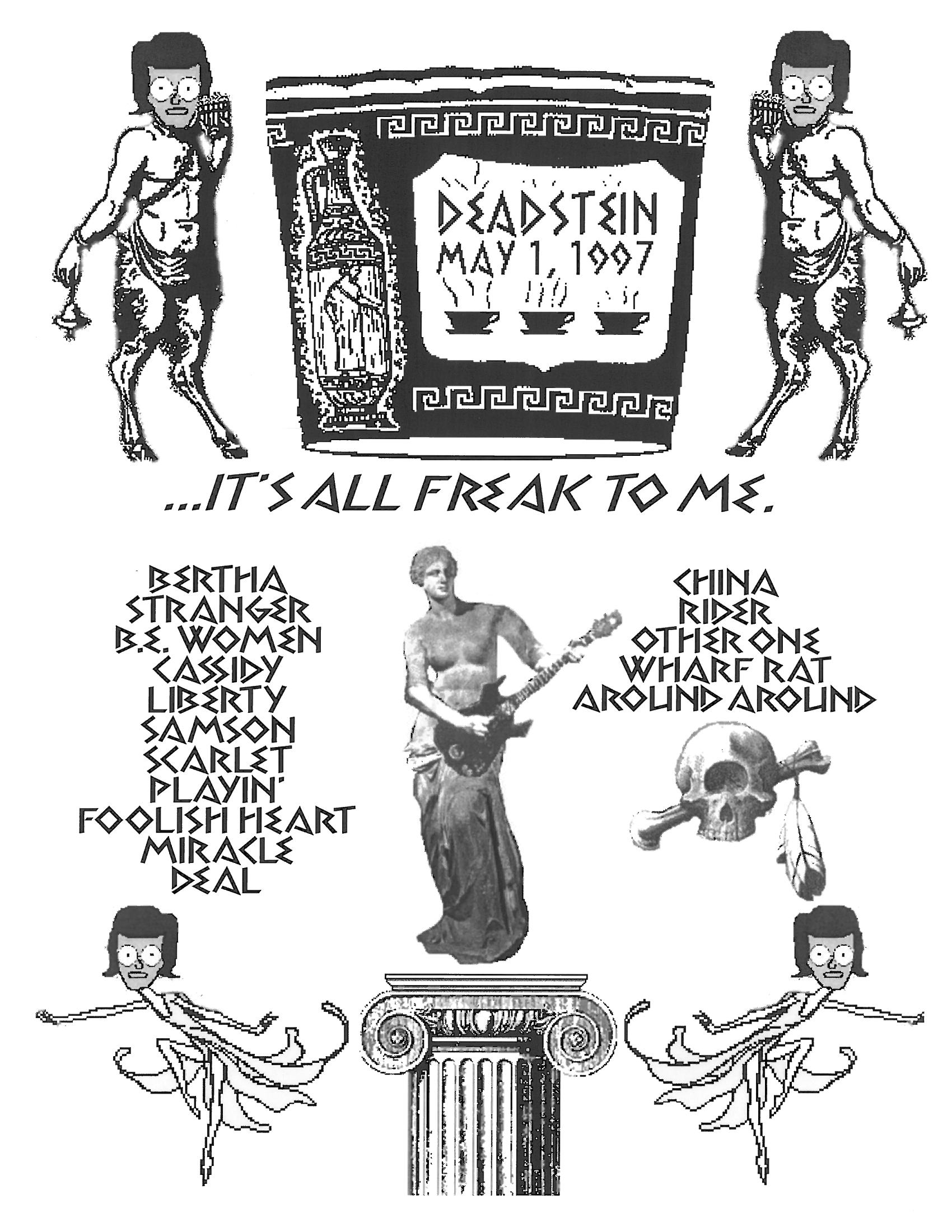 First Set
Bertha->
Feel Like a Stranger
Brown-Eyed Women
Cassidy
Liberty
Playing in the Band->
Franklin's Tower
Deal
Scarlet Begonias

Second Set
Chinacat Sunflower->
I Know You Rider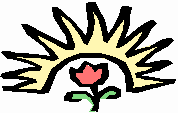 Next Jam: Thursday, May 8, 1997
Having trouble juggling a family and two bands, Larry M. decided to take this Thursday off. he was there to say hi and good-bye and that's about it.
In lieu of Larry M., Kevin arranged for Coffee-Boy Mitch of Marna to sit in on the skins, which he commented were very well tuned and sounding good. This was his second time with us (see March 11, 1997 for his first jam), coming back for more java abuse. he played quite well, a slower groovier sound was then end result.
The only other guest in the room was Mitch's friend Mitch. We have had no Brotman for several weeks now. Dennis was no where to be found but I hear he was in the building.
Larry B. came in about 7:40 and we didn't get rolling until almost 8:00. This made for an alteration of the original setlist. as you can tell.
I personally had a lot of trouble playing tonight. I didn't like my sound and only had moments of my new confidence that has lead me to some of my best playing in my life. I used Kevin's phaser box.
Johnny was back in full force after not seeing us for several weeks due to Manilow (see his review in the April 17 comments)
The Stranger out of the Bertha was a surprise to Kevin and I when Larry B. started it. It shouldn't have been, but it was. Kevin handled it well, I didn't. I was definitely having trouble communicating all night. I was in my own world and rarely reached out. I've done better thats for sure.
Brown-Eyed Women started quickly with spunk and had a very constant beat. That is if you consider a constant rate of deceleration to be a constant beat. The spunk turned to melodic mush by the end.
The Cassidy is a place where lack of communication had tangible results. We had our first whipless Cassidy maybe ever. It was nice. We jam hard during it. I never looked up for the whip or even the start of it, even though we toyed with it constantly, We then fell out of the Cassidy groove and our path toward the whip and never go the gusto up to do the whip. I saw Larry go to the mic to sing the closing verse and I was miraculously able to get in my riff. It was a weird Cassidy
The Liberty was described as Calypso. It was okay, a bit too much of going through the motions.
With time dwindling we strayed from the setlist and went for a Flourent order into Playing in the Band. We decided not to select which song to go into out of the Playing and Larry started the Franklin's. A shock to me but a pleasing choice. We played it well. I had a lot of problems getting into the Playing groove. It wasn't our best.
The Deal was real slow and groovy and a great twang to it. It was reminiscent of early Deals, and like them, we didn't play and ending jam. That was a surprise to me and slightly disappointing. I was okay because by then we had already played several long jams.
The Scarlet close was played very quickly with a lively feel. We flew through it with confidence and never floundered. The jam was good, coherent and finished with a nice closing riff.
We have to give Johnny full credit for implementing a terrific meal. He got the prejam drinks, and batteries and then also did the Flourent and deli. We all owe him a great deal of gratitude for doing such a good job.
The primary food were Flourent (cheese) burgers, fries, mashed potatoes and , who can forget, Pecan Pie. Actually the Flourentians forgot the Pecan Pie and Johnny had to go back for it. It was worth it with a nice hard glaze pecaneesed crust on top of cool soft pecan slush. While lacking a strong bourbon bite. It was still pretty darn good. I should work on the Food Channel.
After dinner we learned of Kevin's love of Neal, the strong manly massager. Kevin's was talking of getting a Neil to service the band a future jams. I don't like the sound of it. I could live with the hammock.
Due to the typical lack of time we only played tow of the proposed five songs.
The China Rider was normal to me. The Rider became a chore

It was very comfortable in the room but outside were some thunderstorms that came in from the west which were enjoyed by Johnny.