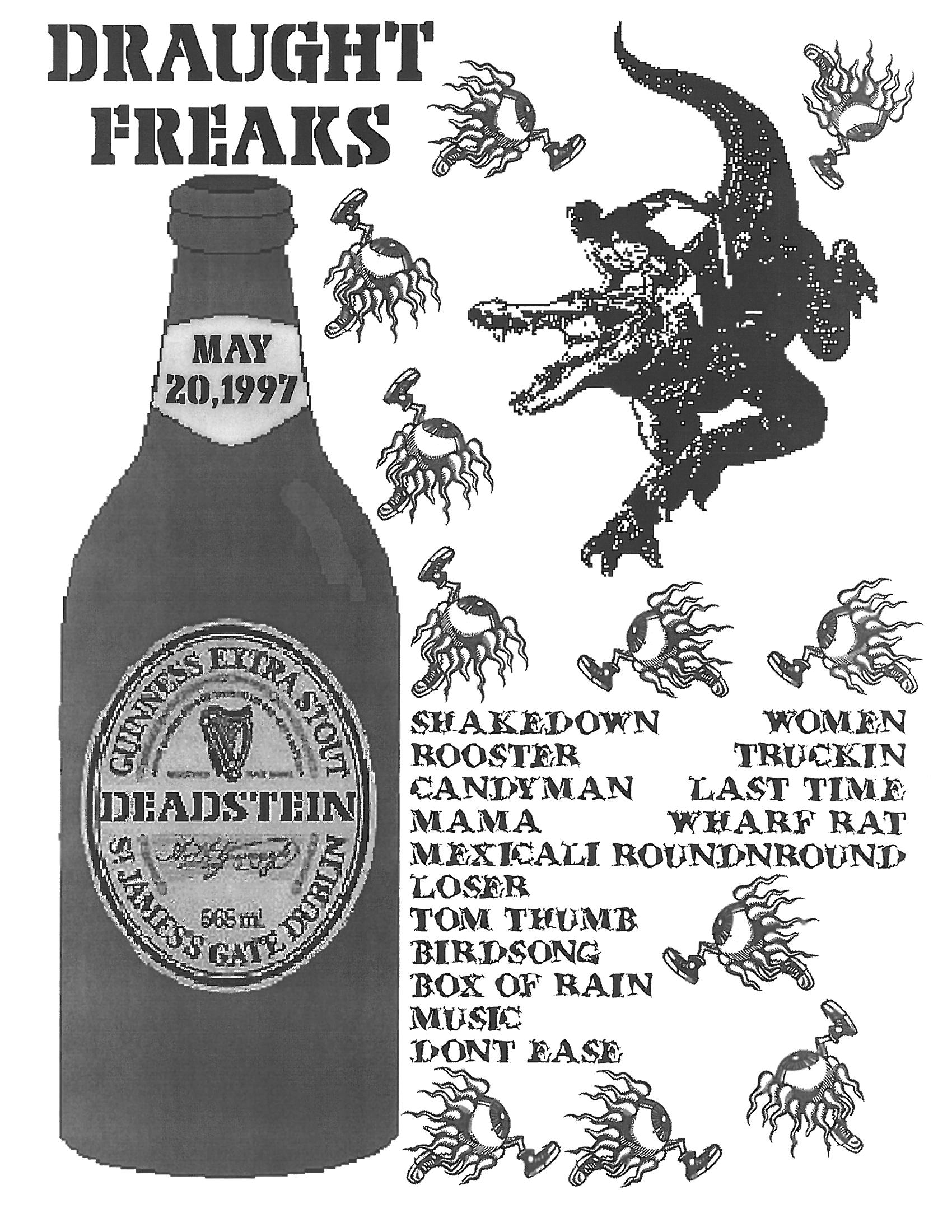 First Set
Shakedown Street
Little Red Rooster
Candyman
Mama Tried
Mexicali Blues
Loser
Tom Thumb Blues

SecondSet
Birdsong
Music Never Stopped
Box of Rain->
Wharf Rat->
Goin' Down the Road
Jack Straw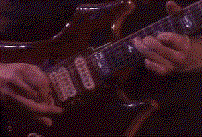 Next Jam:Thursday, May 29, 1997
There was no Larry Menaker as he took himself and his drums to Crossroads to play rock and roll with Riley.
There was no Scottso as he was working his way through the travel industry in Spain, we assume.
Coffee Boy Mitch sat in quite nicely on Scottso's drums. Scott's poor drums
Johnny was present for the first set but had to go home for the Bull/Heat playoff game. Its appropriate considering this is the day the Marv Albert was accused of forcing a women to perform oral sex on him back in February. We will watch this case as it develops but I don't know about you but I am rooting for Marv. I can't believe he would have done this. Time will tell. or will it O.J.?
There was no Rich Brotman once again and Dennis on peaked in every now and then.
Shakedown was hot and flew nicely through the song. By te time we started the jam we petered out a bit and slowed down into a poor ending. This is opposite our usual Shakedown where the jam is good and the song is bad.
The Rooster was powerful. I sang it which was a rarity.
Candyman was okay.
The Mama Tried was fair be it ended under duress as Johnny kicked out a wire from Kevin's Box. He replaced it just in time for the transition into the Mexicali and we tried to continue but not successfully. We tried to start the Mexicali again immediately but that also failed. Once we got going it was okay.
The Loser was okay, te jam go badly lost during the second round as Kevin only played the riff once between jam verses and then went into the verse as Larry and I continued with the second riff. That whole second round was lost but we recovered and went into a hot third round.
Tom Thumb ended the set because Coffee boy been drinking too much of his own product and smashed the drums stick through the snare. Unfortunately we didn't have a spare snare and attempting to replace turned into a dilution. Before we knew it Flourent was beckoning and the set was over.
That's right, Flourent was orchestrated by Jonathan.
It was a small order. Only Johnny, Kevin and Larry had cheese burgers so I cannot comment on them. I had it my way on the way into the jam (I went large) and coffee boy went to the Union Square Cafe before the jam (a place I gotta try) . I had some French fries which we a bit soggy, but I examined Kevin's latter on and he had crunchies. Lucky him.
For dessert Kevin and I had Pecan Pie which was not a crunchy and candied as usual. Kevin liked it a lot, I thought it was mediocre. The made up for it was a few strawberry slices on the fresh whipped creme.
Dr. Peppers, Cokes, Snapples and Drake products were also supplied. We also had Nabisco Sugar Wafers which were not even opened.
We started the second set by playing some of the remaining songs from the first. Mitch applied some duct tape to the torn snare. A band aid solution at best. A duct tape solution at worse. I don't know which is worse.
Birdsong was spacey and fun
Music was fair
Box of Rain was well played
Wharf Rat was fair and
The Goin' Down the Road was just not good.
We made up with a good night closer of the powerful and fun Jack Straw. A Good ending song.
There was no significant weather to speak of.
It was a comfortable spring day.