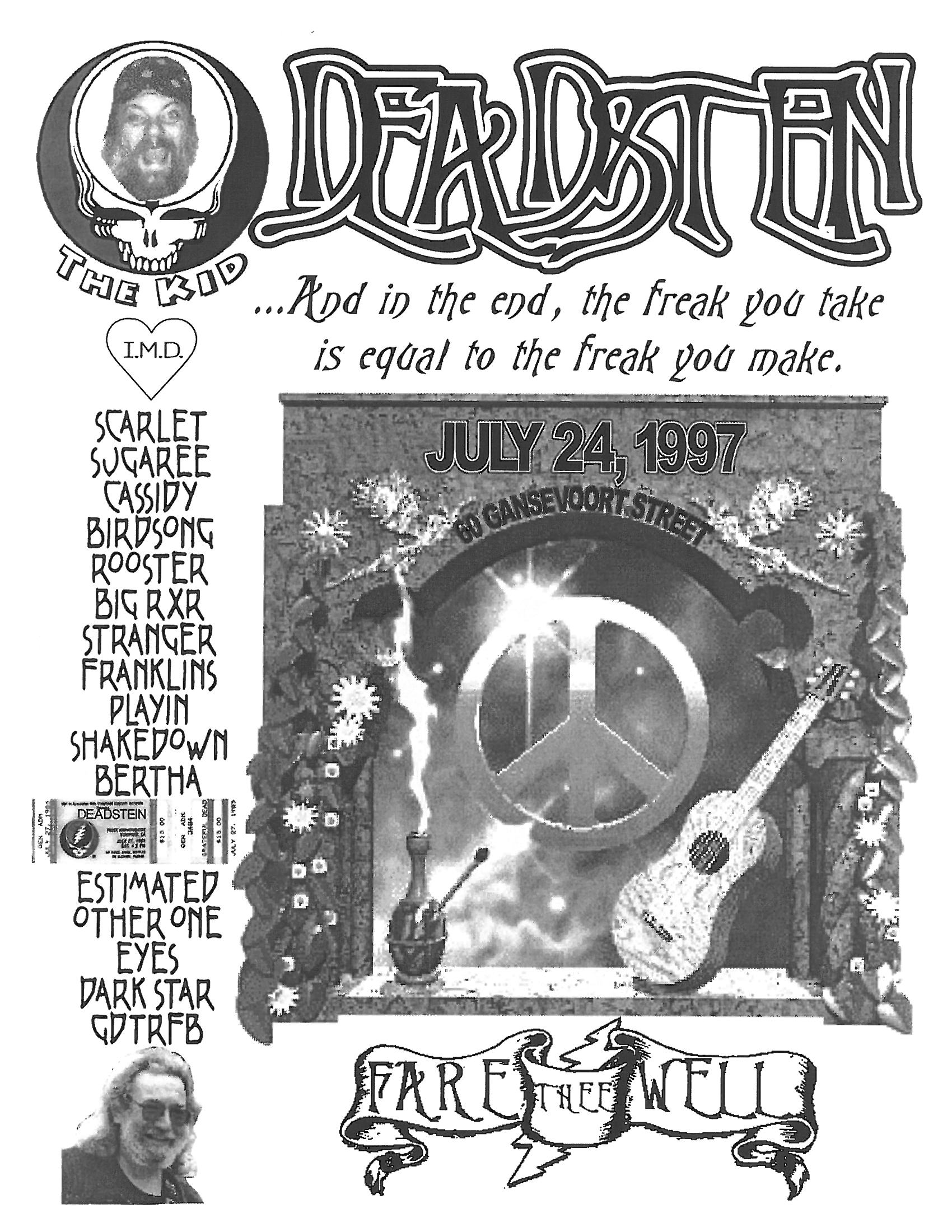 First Set
Scarlet Begonias
Sugaree
Cassidy
Birdsong
Little Red Rooster
Big Railroad Blues
Feel Like a Stranger
Franklin's Tower
Playing in the Band
After Midnight
Shakedown Street
Bertha

Second Set
Music Never Stopped
Goin' Down the Road
Brokedown Palace
Samson and Delilah
We Bid You Goodnight

With this being the last Ganesvoort Street jam and all the nostalgia that congers up, July 24th promises to be one of the biggest nights of the year.
It will be the night after the big Admiral/Alta party in the same location and the jam will be the icing on the cake of this wonderful episode of our lives.
All sorts of special guests are expected to make their appearance for this historic last waltz. Both Andrew Trister and Doug Schmell are expected to show. Rumors of Fortgang and others just to name a few. They are all part of Deadstein history from the SUNY Albany days.
Sadly it also marks the end of not only a building, a mere rehearsal studio, but it marks the end of our weekly relationship with Dennis and all the other freaks that surround him. Riley, Benson, Tony Orlando, Richie, his brother, just to name a few. These moments will be dearly missed because these are situations, conversations and people we don't run into during our normal course of business. We luckily fell into this time warp for several years and only time will tell if we will survive in the present.
It promises to be a freaky night all around. One, no one wants to miss.

An anniversary of sorts passed us by a few weeks ago that deserves mention. It was the July 1, 1996 jam that was the first posting of a jam on the newly formed Deadstein Web Site. Over the past year this site has facilitated my Internet development prowess and has given me a forum to hone whatever latent creative talents I may possess. I don't why I am seeking to see if I have any talents like this, but the last year of this stuff has been educational and I thank all involved for indulging me. You can see we have come a long way.

The final jam at Ganesvoort Street is a relief to me from at least one perspective. I no longer have to ponder about the spelling of "Ganesvoort" or "Gansevoort." The actual street signs have two different spellings, so what is a budding web-meister to do? Move the 38th Street. That's easy to spell.
While this night was the official closing night of Ganesvoort Street and our existence there, last week was the true final jam. For this week we played not in the studio but in the warehouse where we consumed so many a calorie. Admiral Abatement had their own farewell bash the night before and it was best that we made due with the remnants of that experience. The move out of the studio was already well under way. As soon as you walked in to 60 Ganesvoort you smelled the remnants of that party. Musty beer spilled on the floor reminded me of what my house on Hudson Street in Albany used to smell like after a party when a vagrant slept in the living room. There were many kegs at the Admiral party consumed, spilled and left over. We had access to all the beer we could drink, but in that environment, beer was just not appetizing.
A nice stage was built where the drummers and keyboards played. In front was a wall of sound made up by four sets of guitar amps. It was a very noisy night with the great wall of sound and the echoing of drum symbols off of the hallowed concrete walls. While it never got comfortable, the interchange of sounds dramatically improved as the night went on. It was still a very difficult night to comprehend what was happening to us but, isn't that what it is all about? This is the morning after that I am writing this and I am still in a tissy from the Admiral Party minus seven (-> or -7) Fare-The-Well Jam.
We were expecting all sorts of guests for the night. Some showed, some didn't, but the important thing is we had a special, freaky experience to end it all. In the room was standard Deadstein crew with the conspicuous absence of Larry M. In addition, very special guests include Andrew Trister, who played in a jam early on in the Ganesvoort days. He was not heard from since until he called me out of the blue a week ago and made it to the final show. It was great to see him and certainly hear him. Not only has he not lost a step, he invested in a high speed elevator. Unbelievable.
John Spitz was gracious enough to show and indulge in the fare-the-well festivities. It was good to see him part-take. A relatively new comer to the Deadstein scene, he seems to have the right tools and spirit to fit into a bunch of freaks like ourselves..
Of course Freak-boy himself was there. Regaled in a super freaky tie-dye superhero's costume, complete with cape, he entertained us and himself with the"Freak-Boy Dance." While Jonathan is no visual substitute for a well-endowed spinning Ramble on Rose, when you can't flaunt them, you might as well freak them. And freak he did, because I noticed on several occasion Trister looking bending an eyebrow at the Freak show that was before him.
Also in the room was Dave Schwartz and original Deadstein drummer who was there at the first jam.
It was good to see Mike Katzman who played with Deadstein through many a rehearsal and through many of our infrequent gigs. he always provided us with a little professional help which we sorely lack.
Finally, Joe, the white haired friend of Larry M., was there and ready to party. He brought us back to some of our early days when we did say NO. That was good to see. It made a for a viscous fall that he took later on in the evening. He was one wasted dude who began to actually rap some ridiculous verses. It was all in good spirit of course. In the end, I called him "Vanilla Idiot."
I think Scarlet was the low point of the evening. It was from the first moment that I realized I was not going to be able to hear myself all night. It was the low point because that is when I realized this point but, the combination of excepting this and the situation improving over time made for an unbelievable time. I can't believe we were there for a Scarlet or for six years since June 11, 1991. Trister came a little late. We didn't start until about 7:30 and Trister began setting up during the beginning of the Scarlet and joined us by the middle of the big jam. It was a difficult song to work through harmonically. There were so many distortions going on that no one could believe anything they were playing. It was freaky, no one knew what to do. It was a time for dismay and disbelief.
Sugaree was a little better, there was a little more room. I remember during it Trister saying to me, "This is the loudest thing I have ever heard." He was right except for the fact that the Scarlet was louder. Anyway, I was thinking "This is Deadstein, sink or swim," and it was about that point that he got over the shock of the cold water and began the back stroke.
Cassidy was pretty good, very hot intro into the whip.
Rooster had some hot leads in it.
Big Railroad was very enjoyable. "The good old 4-4," as Trister said. He really had the riff down didn't he.
The Stranger during the song was pretty good. Trister has the real deal Mutron envelope filter and it shined during the Stranger. The closing whip of the Stranger was totally flubbed and was one of the worst single moments of the night.
We messed up on the structure of the Franklin's a bit. It got hot. Johnny thought it was dragging. I admit it dragged a bit but it also provides a bit more room for all of use to interweave, bob and shake.
The Playing started with a 5-6-7-8 when it should be a 7-8-9-10 but who's counting. Larry B. is and it should be 7-8-9-10. I personally said NO to the beginning of the Playing and got into the groove by the turnover. I really whipped it. It was fun. There is nothing like a Playing to enjoy a trip down a path leading to nowhere except where you want to be. It is magical in that sense. We closed the Playing with the back into Playing which got powerful. We took a small break after the Playing.
An informal After Midnight was in progress by the time I came back to the stage. Mike K. was playing the Hammond, which even I will miss, and singing. Dave S. was playing my guitar so I decided to join Scott on the drums. Although I stink at them I was counting and keeping a steady beat by hitting a snare on the 2 and 4.
I remained on drums during the Shakedown which I really can't comment on since I was in a strange place. I loved the drumming though.
I sat out during the Bertha as Mike K. picked up the sticks.
It was ironic that the place where we learned to become pigs by eating fine Italian and French food on top of garbage dumpsters wouldn't be used to eat a thing during this jam. The call to play music was too strong.
Larry B. and I had to resort to going to the Holland Dinner just outside the tunnel. It took a long time but was worth the wait. Egg were on order with some good toast, fries and hash browns. There was nothing wrong with the chocolate milk and egg creams either.
We strayed from the original second setlist Kevin wrote out for us. Unlike the first, which untypically, was longer than proposed. No eating will do that to a setlist.
Music Never Stopped was hot. Dave sang and Larry and Andy traded some hot riffs. Dave thought it was the best one ever and it may very well have been, but just imagine what that could sounded like with a little more coordination and practice. Oi-vey.
Going Down the Road was a little too big.
Brokedown was sweet. It had some nice harmonies, best of the night. I think Kevin was playing like Kevin in la-la land quite a bit during this song.
Samson and Delilah was really good. John sang well and we had some hot leads. Larry B. picked this song to provide Trister a venue to shine a bit and he did. It was hot and the little didlies during the verses were just right. It was fun and fitting as a way to close out this wonderful studio.
The impromptu We Bid You Goodnight was surprising sweet, well done and had a strong emotional tie to it.
It was very cool for the middle of July. It was blustery outside all day. The rain was very strong and by the middle of the night, there was heavy flooding in the back corner of the studio.
The ride home was through a consistent torrential down pour. Hydro-planning many miles at a time was the norm. From a weather perspective, it was as difficult a ride home as I have had from a jam.
Closing of Ganesvoort Rap-up:
It was a shame we had no Dennis to say good-bye to at the end of the night as he was sleeping for the last time to the lullabies of Deadstein. Let us not loose sight of the picture of a slumbering Dennis is the bowls of the New York City meat packing district under a dripping ceiling snuggling in a cover and somehow able to sleep to the tremendous roar of Deadstein.
Fare-the-Well oh Dennis.
"Going to leave that Brokedown Palace. On your hands and knees you shall roll, roll, roll." No one I fits the following like you do, "Mama, Mama many worlds I've come since I first left home. Going home, going home, by the waterside I will rest my bones. List to the river sing sweet songs to rock my soul." So Long Dennis, it's great that you found a river. It's perfect.
As for Deadstein, we have our own new home move into and it's a big move. We have a little plan for now, it should work for the foreseeable future but, the future is unforeseeable. All we know is "The wheel is turning and it won't slow down." It will just stop one day and then you will look back and wish you didn't get get off.