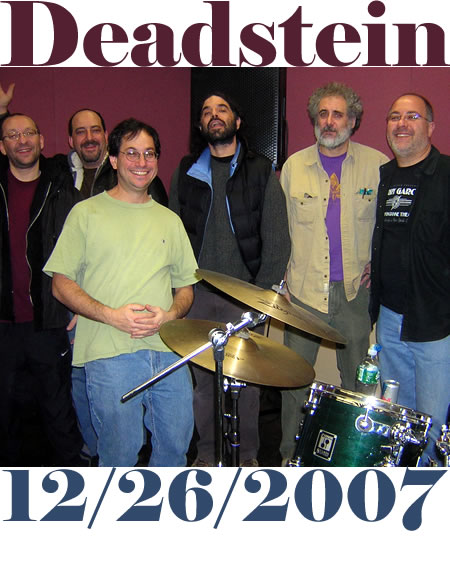 Well it was the last jam for 2007 and it was great to end the year with Trister playing lead guitar last week and Jason playing with us this week. This is symbolic of the wide variety of lead guitarist we played with throughout the year while focusing on the old standby Andy with supplemental infusions by our new comer Jason. In all, the core of Deadstein survived another year, somehow, and embarked on its 18th year of jamming. In addition, the core has developed a stronger foundation while developing a flexibility to fit into anyone?s shoes that may step upon the band.
Jason?s been a great welcome addition to us, teaching us a lot about self-containment. There is a lot more fun and freak to experience in 2008 so make sure you are prepared to go to every show because you never know who is going to show up and what we are going to do. If you can?t make it, give Rich a call, he will allow anyone to conference into our jam and enjoy the Deadstein experience over your mobile phone.
There were no guests during this jam with the exception of Little Jimmy, who once again claimed he only has 2 weeks to go before he is stuck on Staten Island forever. Scott brought in some Patron and all the accouchements while I brought in a thermos of coffee (Columbian Micro-Regional) without any of the accouchements except almond cookies. Coffee handed out his cool shirt to everyone, ?Because life it too short to drink shitty coffee.? We played lots of good music with many excellent moments. Having enough energy to end the night with a long Eyes of the World that subsided as the midnight hours came upon us. We performed a successful Attics of My Life and a few barn burners like Music Never Stopped and Rhapsody in Red. The estimated a really solid as was most of the music.
Have a happy new year?s to everyone, be fun and be safe and we do it all again on the first Wednesday of 2008