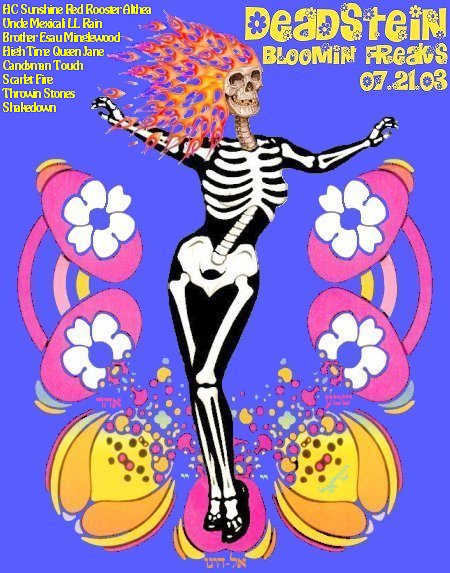 Playing some nice relaxing Grateful Dead music for the good of our hearts. MiniT, who looked real Mini in her blue Converse All Stars or Keds, whatever they were, was only there for the firsy set and she only graced us with a few tunes to sing. Otherwise it was up to Rich, Andy and I to belt out the rest, and belting we did. Stu was our only guest this night and he left pretty early.

The playing felt pretty good. It was fun and the sound was pretty good also in the room. I'm learning to like the VHT amp I use a lot more than I used to. Playing it though my strat felt good. We played the Not fade Away with some great energy and the Stella Blue had a gut wrenching lead to it.. I liked the Touch of Grey Terez pulled out of there you know what.

Kev, Mitch and I met for some Fresco Taco Salad and I picked up some Starbucks frapachinos before the jam. Maybe thhat's what gave us all the energy because except for a small piss break at 9:30 we didn't stop between 7:30 and 10:50. It was a lot of playing but it felt not like a lot. Maybe it was the Monday night jam versus Tuesday.

I had some significant rain and lightnig on the way home but I got hame nice and quick. Till next Tuesday, remember, Monday. Don't forget Rich is setting up another Tobacco Road gig featuring Terez for Thursday night October 9, 2003.