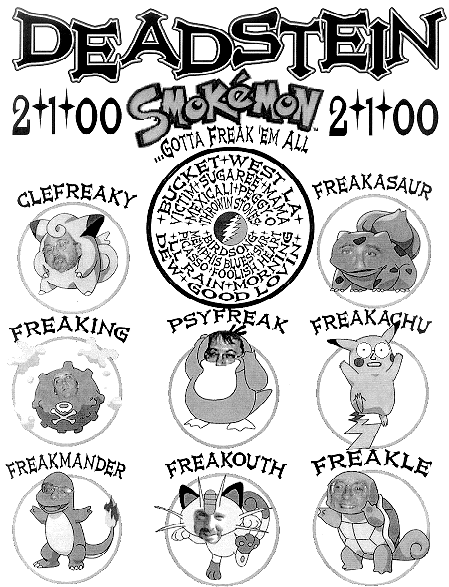 All guests and groupies were in the house with a few guests to boot. Jonathan brought a Tokyo-American Mr. Drysdale type of friend with him called Dave and he hung for most of the night. He saw his cohort Jonathan out of his mild-mannered bank uniform and in his semi-Freak outfit. The dress has to be next for full exposure. Johnny put on a pretty good show for him with a good Egyptian side-step or two. Dave played some real nice blues riffs during the halftime foodfest with Trister. He helped in Kevin and Johnny not having a feud as soon as the two mixed. Kevin held back and it's duly noted.

Tefillin-Ken showed up almost at the end as has been tradition for the last several weeks. He was joined by Corey, Kevin's relatively new condo-friend, but more importantly, part of the Scotty-Corey-Kenny Seaford triumvirate. That must have been quite a scary sight at the All American. By the way, for all you Seaford heads, I played my first game of pong at the Pequa Bowl. The three of the were reminiscing about good old times on the back of the moped. I guess Scott's cool but the Fonz, he's not.

I did some nice tweaking of the PA during the Memphis Blues and So Many Roads. I metered and set the trim on Larry's mic (channel 1) and Andy's mic (channel 2). I think it and the singing sounded pretty good, the best yet, even competing with generally loud, energetic yet somewhat sluggish tempos. The So don't touch the trim knob on number 1 or 2. The Mama-Mex really moved. I recall the bucket being pretty good. The birdsong was really nice. I thought the Cortez song was really terrible. We should make a rule about playing those Neil Young songs. They are just not good. How Sweet It Is was a sour note to leave on.

Johnny pulled off a good Delicozo delivery. He pre-ordered riceballs for everyone, I had a great salad, pizza was nice, knots were good, vodka pasta, chicken-parm pasta, loaves and loaves of bread, with butter. The food was good but there is a price to be paid. Kevin almost pulled a Jeremy on us during some song and just went upstairs to probably release something. I don't know what it was, but it couldn't be pretty. Whatever he had caught up to me because I had to use Johnny's bathroom before my long trek home. I saw the Freakpad and I soiled it. I thank him for that. It's very nice with the type of view a freak really appreciates. Good thing the maid was just there. It was a very cold blustery night. There is still plenty of snow on the ground. New Hampshire primaries for President just ended with McCain winning big and Bradley losing small. St Louis just won the super bowl by a yard.