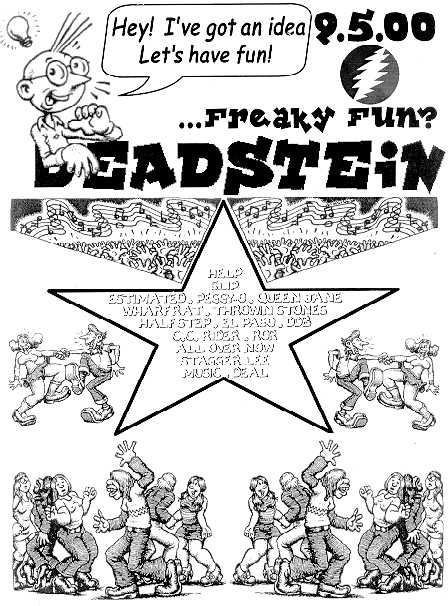 There were no guests for the evening and it was down to core Deadstein as Trister and Brotman were attending to other affairs. Tommy-Snappa-Wrappa-Son-of-Pizzaman was there to do his due diligence, which he did do. Johnny was there for part of the night as he left us to catch some Tennis at the ESPNZone. It wasn't after he took care of his brethren and got them food. Scott was gonna die without it.

If nothing else we finished an entire setlist, added a few songs and got to eat. A full night if you ask me, but who asked me. It was pretty good for most of it as we played pretty hot stuff. The only true weakness was the Brokedown which just plain sucked. It was amazing that we followed it with a pretty effective Saturday Night to close the night on an up beat.

Snappa-Wrappa-Pepperoni fulfilled his Deadstein obligation with a warm and heart felt "Crack 'o My Ass" beginning of Wharf Rat. It one of those moments that will forever live in the annals of Deadstein.

We did a very nice Halfstep with the leads being done according to the Book. The It's All Over Now was really groovin and maybe one of the highlights of the night.

The Music and Deal were very hot moments to end the night with and we played them with energy and excitement although the transition into the first part of the Music jam was suspect but it persevered and lead to a hot ending lead.

It was the first unofficial day of fall and the weather was cool like God knows when fall starts and summers end. It's uncanny. Speaking of September, the Mets halted a 4 game losing streak with a 3-2 extra inning win over the Reds to remain about 1 game out from the division leading Braves. So much more to say and so little time to say it.