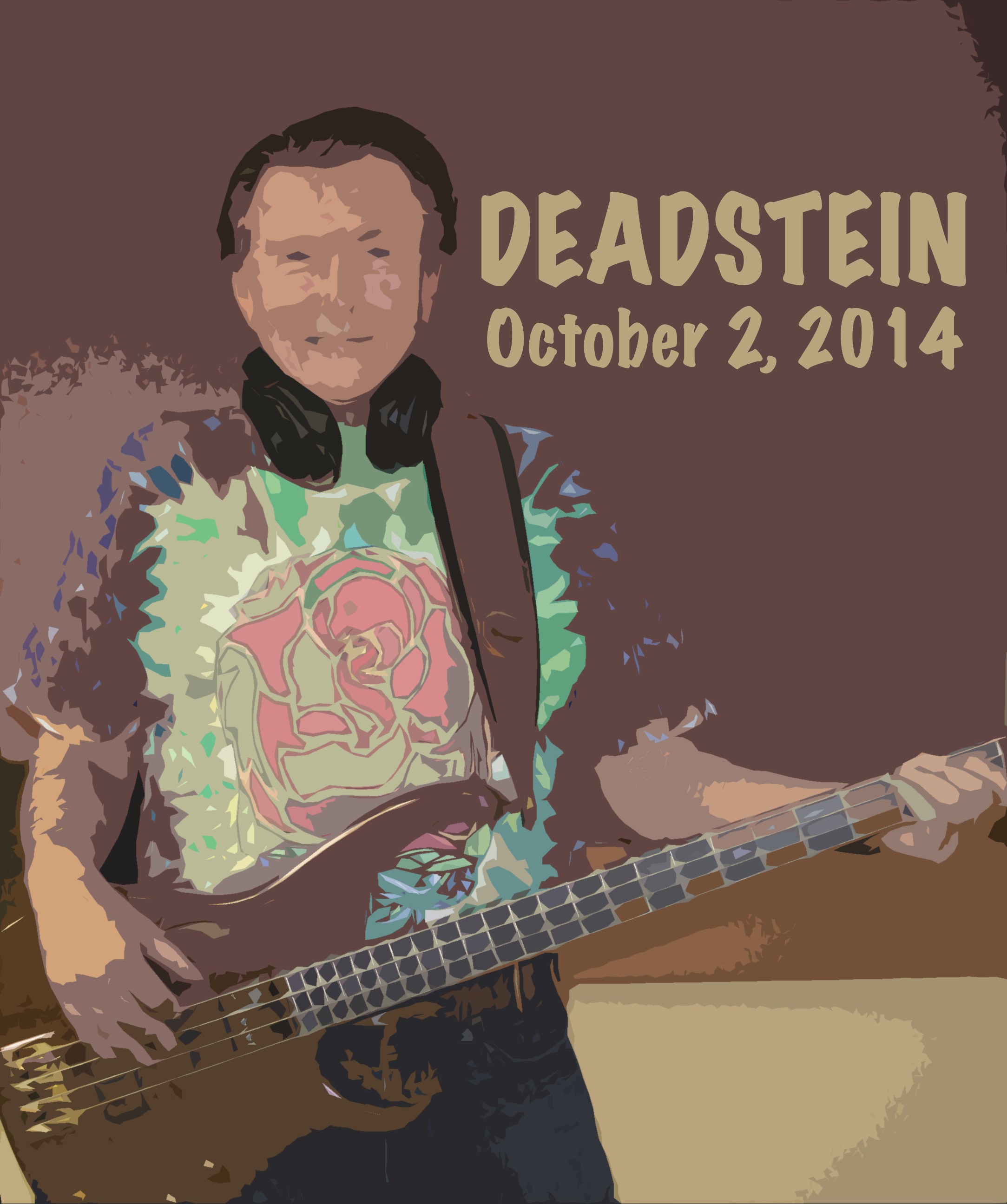 With a lot of stuff going on in Kevin's life he was unable to attend this weeks jam. This is a rare miss for Kevin and at the last minute, we were scrambling to find a bass player. Fortunately Michael Caruso, a.k.a. Michael Carpetsteen, was able to play with us and it turned out to be another fulfilling evening of Deadstein.
After Michael got all his contraption set up, his personal monitoring system, we were able to start our first song, Shakedown Street. From the first notes we were able to realize Michael did not have the same forward nature in his bass playing exhibited by Kevin's playing. It was quite a shock to our system but it was something we got used to pretty quickly. Even though after the first song we had to ask Michael to turn his base wait up so we could hear it. He was using an Ampex tube amplifier and bass cabinet because using Kevin's monstrosity of a bass rig proved to be a bit daunting for Michael. Nevertheless, the low powered Ampex combined with his hollow bodied Modulus bass guitar presented some issues because it would feedback after turning up the amp as much as we needed it. None of this affected Michael as he was in his own personally mixed world inside his headphones, having the time of his life.
All night long we just barreled through the songs. One after another with the total song count of twenty four songs for the night, not including the two songs Michael and Rich did during halftime.
Most of the songs were well done and a lot of fun to play. Some of the highlights in my mind including I'll Be Your Baby Tonight; Cumberland Blues was definitely not a highlight and neither was the Don't Ease Me In. That was probably just a little more than we should've done at that point of the night. The Ripple would've been a very nice closer, but we had a minute or two left and figured we would squeeze in another song.
I really appreciate the fact that Michael was able to come and jam with us this night. It was easy and convenient as he came to my house and we drove in together from there and drove home together obviously; also picking up a couple slices of pizza on the way home and catching up on on old times. Looking forward to the 24th anniversary Deadstein jam coming up next week on October 9, an amazing historic moment for us. So with that, I'm dictating a "Freak Out!"